Binatang kids turn it on at Queensland U16 champs
Tuesday, May 16 2006 @ 11:44 pm ACST
Contributed by: Brett Northey
Views: 3,522

Four Papua New Guinea youngsters were selected for the squad to represent the Country Kookaburras in the Queensland Under 16 Championships after the PNG lads dominated the recent Queensland Country Championships (see Binatangs dominate Queensland Country Championships). The Kookas have just completed a great 2006 series at O'Callaghan Park, Zillmere, making the grand final where they lost to the Northern Raiders. In terrific news for the international spread of the game, three of the PNG boys were star performers throughout the tournament, and one has made it through to Queensland's state under 16 squad.
The best Queensland country players come together to form the Kookaburras and take on the five regions of South East Queensland. In their first match the Country team defeated the Suncoast Power easily, Kookaburras 13.13 (91) def Suncoast Power 4.2 (26). In their second match it was the Kookaburras 16.9 (105) def Western Taipans 3.8 (26). Into the grand final and unfortunately inaccuracy cost the Country side, losing Kookaburras 7.12 (54) to Northern Raiders 11.5 (71).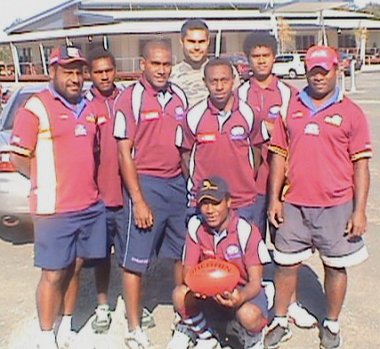 There appeared to be some confusion in the statistics/player name spelling on the AFLQ website, but a best guess would be that in their three matches the PNG boys kicked a total of 17 goals - Susuve 5, Sapra 4 and Meli 8. All three players, and Ogla Pena, also made the best players in at least one game.
With the Kookaburras rising up the ranks of the fast-growing Queensland footy system and PNG players featuring prominently, it was only a matter of time before we saw the first international youngster representing Queensland at state under-age level. Stanis Susuve (pictured next to Brisbane Lions legend Mal Michael) is the first player to break through, and the "rangey half-forward" will now train with the team in preparation for the Australian Championships in Brisbane in July. A lead up game sees them play NSW/ACT in Canberra on Saturday 3rd June.
The other growth area close to Australia is New Zealand, and it would be great to see a similar development pathway arranged through AFLQ or the NSW/ACT system.
A full wrap of the matches can be seen at the AFLQ website.