What's the next step for footy in China?
Sunday, July 29 2007 @ 03:22 pm ACST
Contributed by: Aaron Richard
Views: 3,482

Footy in China has received plenty of attention in recent times, with Tom Mattessi and Andrew Sawitsch both working hard to kick-start local participation. Along the way they've had the assistance of a sister-city arrangement between Melbourne and Tianjin, as well as active Australian expat-based footy clubs in Shanghai and Beijing.
Currently footy is established in two main regions of China (three including Hong Kong). In the north, the Beijing Bombers are a mainly Australian footy club in the national capital, with some fairly new mainly Chinese university teams about two hours away in Tianjin. On the coast further south the Shanghai Tigers are also about two hours' away from the city of Suzhou, where a burgeoning juniors program is taking root in local schools.
The people working on the ground in China believe the potential to be massive, although there's talk the next step could require a funding injection from the Australian end to really create a solid, self-sustaining footy scene. Certainly many consider a Chinese team at the 2008 IC to be a strong possibility - and possibly a huge surprise packet on the field. Could China become the "new South Africa" with regards to development funding?
Beijing and Tianjin
The Beijing Bombers have weekly training and about 30 regulars on their list, including a small number of local Chinese and also occasional involvement with university players from Tianjin in training and matches. A further target are Beijing's prestigious universities, which garner great respect in China and would greatly aid promotion of the game across the country.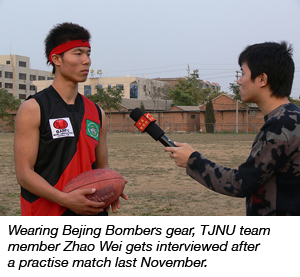 Tianjin currently has one university team, TianJin normal university, with around 20 regulars who have been playing since 2006. Andrew Sawtisch reports "we have learnt a lot from the experience and the team has produced some quality players. However we have found that to boost numbers and keep up the players' enthusiasm, we need some other youth teams to play against.
The Bombers have been very welcoming of Chinese players, with training sessions and practise matches against the TJ Normal University team and even paying for the travel expenses of 5 TJ players to go down to Shanghai for the Shanghai v Beijing match in October last year. "There is talk of getting a junior/2nds teams together for those new to the game so it is not too daunting and offputting for locals and those new to the game. Plus if there is any new Beijing universities who start up teams, the Beijing players would be hoping to help out with training on a volunteer basis."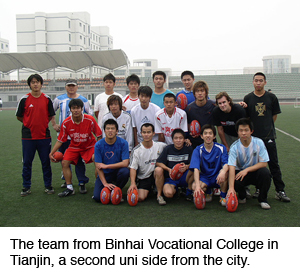 When Tom Mattessi was in China last year, a team was also founded at the Binhai Vocational College, although it proved less long-lasting than TJ Normal University. More college sides are however still on the radar. "There are plans to get a university and school league happening in Tianjin which has the backing of the TJ Education Commission and TJ Sports Bureau, and there was even a delegation of Tianjin officials who visited Melbourne early in the year for research. So far plans for things such as equipment, funding and coaching training are being put in place as its school holiday time in China, so this is an exciting development and is sure to get the Tianjin participation numbers up very high. The plan for this year is what we call '10-10-4' that is introduction to 10 primary schools, 10 high schools, and 4 universities. Teachers will help select suitable students and they will be trained up for interschool competitions and hopefully some involvement in the Melbourne Demons China trip in October. From there we are confident that the program will be able to continue to grow in Tianjin."
"Last year Tom Mattessi coached TJ normal university team which exposed about 30 players to the game twice a week, this year, with the start of a new semester and a new coach, the team was wittled down to 20 players who were genuinely interested and commited to training in their own time, of which 5-7 players are very very good. That is a pretty good ratio and the method we'll use in setting up new school teams in China."
Shanghai and Suzhou
By Sawtisch's reckoning the Shanghai Tigers are China's biggest club, with up to 50 players on their list, regular intra-club matches and squads of up to 20-30 going on tours. "The great thing for them is the great facilities they have access to in Shanghai and their relationship with Rugby and gaelic clubs. They are mainly Australian expatriates and play a high standard of football."
Not far from Shanghai, Suzhou has been the story of 2007. March saw 2 PE teachers travel to Melbourne for coaching training. They have since received support from the AFL to introduce an Auskick style program to their primary schools. The 2 schools who have taken it up so far have found it to be extremely successful and have up to 10,000 participants exposed to the game through PE class, as well as about 100 students (about grade 3-4) who practice every day. The group overseeing Australian Rules Development have also recently completed a demonstration at a Suzhou municipal level, and hope the success and growth in Canglang district can be applied to the whole city, and further levels of education.
"Shanghai have expressed that they are willing and open to local involvement, but having full time jobs and families has limited their time to put more time into the club and make it more than a part time hobby. Suzhou and some of the Shanghai universities present opportunities to get involved together with the Shanghai Tigers, so we will look into that."
Sawitsch (from memory WFN's first Asia writer back in 2004) and Brian Dixon (a key driver in establishing footy in South Africa) are working with the Suzhou staff to share resources across all of China and ensure it is a national initiative, but at the same time are in a sink or swim position and awaiting some guidance, encouragement and funds to go one step further.
Multi-Ball - the political centre of Chinese sport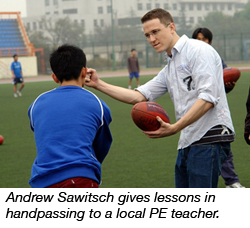 Sawitsch is working from both Beijing and Tianjin, spending around 1-2 days a week in Tianjin and the rest in the capital. "Beijing is important to create a presence in as it's the capital city and the home base of the China multi ball sports department. That is the governing body for all ball sports in china, and we have been advised by them that any national representation by a team or association in Australian Football, must go through them and have a network across all of China. We have got a good relationship with the Chinese Cricket association too and have learnt a lot through their experience. They work closely with the multi-ball sports department and the suggestion from Multi-ball is that both our sports have the opportunity to work together.
The creation of a national governing body is a goal all parties are working towards, but one which needs to be approached carefully so as to make sure it is approved and endorsed by the Chinese government and relative sports departments. "I'm quite positive we can do this in time but have noted from the Chinese Cricket Assocation, that is not a fast and simple process."
"At the moment, we are working on getting numbers and experienced players and coaches of the game in areas where we have a foot in the door like Tianjin and Suzhou and having them form their own associations and working groups, and from there we will continue to talk to Multi-ball and get their help and approval in expanding it and forming an actual Chinese Australian Football association. At the moment, national representation for Australian Football at the Chinese Multi ball sports level will fall under the Chinese Rugby Association Banner, as they are the body responsible for all oval ball type games (American football, rugby 7s, touch, Australian Football etc.) so we will work together with them before we are able to formally arrange our own body."
China at the International Cup
Sawitsch believes the Chinese are likely starters for next year's Cup. "There are now a lot of people who want it to happen and we have started getting the word out, which is great. Plus the addition of a developing nations division is crucial for China's participation. With China being a proud sporting nation and the sport having such a short presence in the country, it doesn't make sense to be playing matches against NZ, PNG, USA for example. The issue of whether the team will be there or not, will pretty much be cash! We are not attracting players who can afford to or are willing to pay their own way to Australia for a football tour, rather, we need to convince them and their parents and schools or employers that we can take them away for 3 or 4 weeks. We are not expecting the Chinese Government or Multi-ball sports to help out financially either, due to the sport being not well known at this stage, let alone an Olympic sport. So we really need some sponsorship or help from the AFL in getting the team there. Also, the International Cup is being held 3 days after the closing ceremony of the Olympic games in Beijing, so the timing could prove a bit tight, however so far the feedback is that it shouldn't be a big problem.
"We expect the team would be mainly Tianjin university players, as well as some PE teachers from Suzhou and some extra players from Beijing, hopefully Shanghai. That's the incentive for us to get more teams started now, so there is a representation across all of China."