Leeside Lions win Irish Premiership
Tuesday, September 04 2007 @ 09:32 pm ACST
Contributed by: Aaron Richard
Views: 7,103

Article courtesy of ARFLI.

The Leeside Lions were crowned Premiers of the Australian Rules Football League of Ireland (ARFLI) on Saturday last following their victory over the reigning premiers, the South Dublin Swans. The final score in the Grand Final played in Durrow, County Laois saw the Lions 9.13.67 comfortably win over the Swans 2.7.19.

The Cork Side lined out with four Australians in their playing squad compared to fourteen in the match day squad of the Swans. The league's rule that 50% of the players on-field at any time must be non-Australian meant that the Swans Irish players and one German were tested physically as they had to play much of the game without a rest while the Lions were able to rotate players freely - including local star Teu Ó hAilpín, the brother of AFL club Carlton's champion import Setanta.
The Lions signalled their intentions early with a goal after just four minutes from Teu Ó hAilpín, the brother of Carlton player Setanta and Cork hurler Seán Óg. This was to be the only goal of a tight quarter, with both sides missing several other scoring chances. The early part of the second quarter was dominated by South Dublin as they took the lead through goals from Luke O' Hea and team captain Dom Hoban. The Lions were to regain the lead four minutes later with a goal from Irish International Liam O' Connor. At Half time the Cork side lead by just a single point.
As is often the case in Aussie Rules, the third quarter was to decide the game. In their first attack, the Lions goaled through Rich Bonsak. This was followed by two more goals by Teu Ó hAilpín and then a spectacular gaol by Ian O' Sullivan. While their forwards were increasing their lead, the Lions backs marshalled by Marc Bajcic were ensuring it counted, repelling every Swans attack and restricting the South Dublin Boys to just one behind for the Quarter. With a comfortable 28 point lead going into the final quarter, the Lions confidence increased and they added three more goals from Sam Young, Garett Kelleher and Liam O' Connor. Once again the defence were resolute and the Swans could only manage a point in reply. After the game the Premiership Trophy named in honour of a former Lions stalwart John O' Sullivan from Adrigole was presented to the Lions victorious captain Ciarán Keegan.
Leeside Lions: Ciarán Keegan, Garett Kelleher, Fergal Killoury, Bernard Long, Adam Johnston, Rich Bonsak, Marc Bajcic, Declan O' Sullivan, Liam Tuomey, Dara Kiely, Sam Young, Ian O' Sullivan, Padraig Hannon, Cian Flavin, Liam Flavin, John Hayes, Teu Ó hAilpín, Barry Doherty, Liam O' Connor, Will Murphy, Brian Currane, Denis Kennely
South Dublin Swans: Dom Hoban, Michael Oakes, Scott Sloan, Luke O' Hea, Cathal Kavanagh, Tim Riordan, Neil Lester, Dave Horan, Ross Slater, Simon Cattley, Brian Kelleher, Paddy Jordan, Damien Herbert, Stephen Cook, Eddy Warren, Bryce Fraser, Rob Olwill, Paddy Finnigan, Nigel Hobb, Kev Dolan, Jeremy Hunt, Alan Fitzsimons.
Best on Ground: Marc Bajcic (Leeside Lions)
Goals
Leeside Lions: Teu Ó hAilpín 3, Liam O' Connor 2, Sam Young 1, Rich Bonsak 1, Gareth Kellegher 1, Ian O' Sullivan 1.
South Dublin Swans: Luke O' Hea 1, Dom Hoban 1.
Umpires: John Enright, Shaun Smyth
Goal Umpires: Paul Ryan, Mick Crowley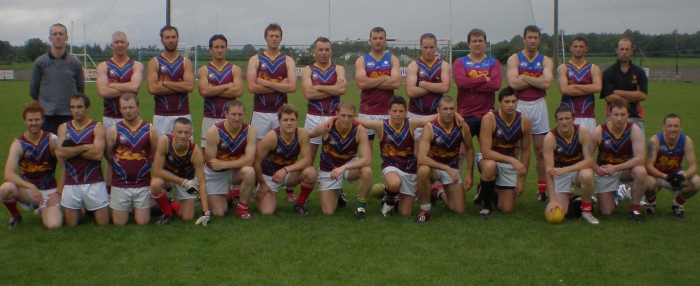 The triumphant Leeside Lions.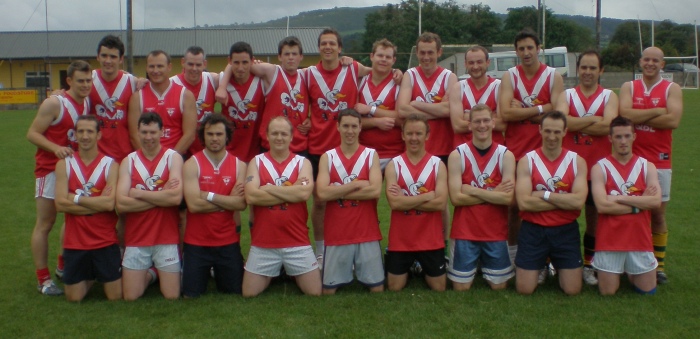 Runners-up, the South Dublin Swans.