Central European AFL Tournament honours rising stars
Sunday, September 09 2007 @ 05:28 pm ACST
Contributed by: Brett Northey
Views: 6,682

The successful 2007 CEAFL Championships tournament hosted in Vienna earlier this year pitted many of the newer Australian Football countries on the continent against each other in what was a great exhibition of footy, played by a vast majority of non-Australians, with most of those running out on the paddock being nationals of the country represented by the jumper they pulled on for the day. Now the championships has honoured some of the competition's best players. Report courtesy of Julian "Rooster" Clark.
In what was a hard fought tournament from the first match to the last saw hosts Austria and reigning CEAFL champions Finland rise to the top with both these nations losing to the other on the day. Lucky for the Finns, their loss was in their first match, whilst the Austrians' loss was in the last match of the day to give Finland their Back to Back CEAFL Championships title.
But the real winner on the day was European Footy, with excellent skills on display from rising star players in emerging nations. For the first time the CEAFL has honoured its best players in the tournament by naming the inaugural European All Stars team... "the Euros". For those that don't know… the Common Wallaroo (a nuggety muscular macropod) is found right across Australia… but from Central Australia it is known simply as the Euro, the same name as the European currency.
Those exceptional players that are named in the European All Star team have been awarded with a Representative European All Star team jumper, which is hopefully a concept that can develop into a touring squad to take on other region... perhaps taking on the Asian All Stars as a curtain raiser in Dubai?
The European All Star jumpers were donated by Big Rooster Footy and can be seen in the photograph being modelled by Kimmo Heikkila (European All Star team member), Izzy Barker (President of the Finland AFL) and Julian "the Big Rooster" Clark (founder of the Finland Lions and co-founder of the CEAFL).
The 2007 European All Stars Representative team are:
Aliou Sidibe (Czech Republic)
Heikki Tanner (Finland)
Igor Franic (Croatia)
Josip Kravar (Croatia)
Kimmo Heikkila (Finland)
Kreso Franic (Croatia)
Ladislav Hynk (Czech Republic)
Matija Basic (Croatia)
Michael Gouteff (Czech Republic)
Michi Schuardt (Germany)
Raoul Himberger (Austria)
Samuli Lehti (Finland)
Sean Doherty (Ireland)
Sebastian Dorda (Austria)
Sebastian Oberzaucher (Austria)
Tommi Oksanen (Finland)
Coach: Kolja Koracak (Czech Republic)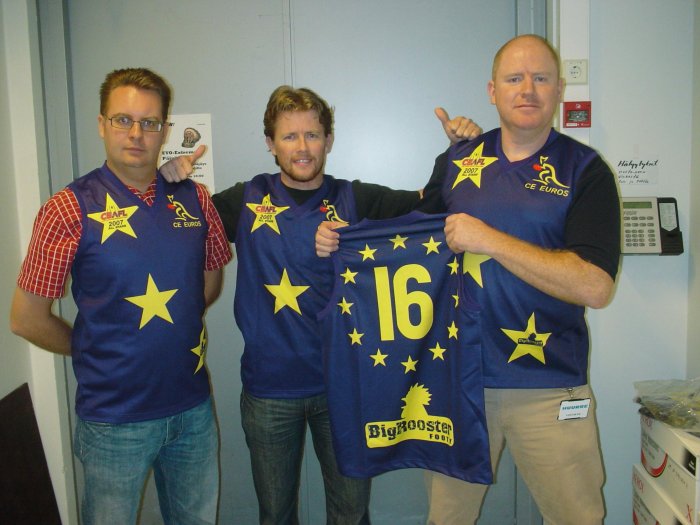 Kimmo Heikkila, Izzy Barker and Julian Clark