WFN launches new World Footy Atlas
Monday, October 08 2007 @ 12:06 am ACST
Contributed by: Brett Northey
Views: 37,303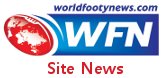 worldfootynews.com has unveiled its new World Footy Atlas. The new Atlas makes use of Google Maps and displays a small icon at each club or league location. Users can click on the icon to bring up the organisation's web address (if available), and the map automatically centres on the location too. You can use the zoom feature at the left of the map to have a look at the clubrooms or ground they generally play at, toggling between map, satellite image or hybrid of both. Please note a "feature" of the Google Maps is that to do a large zoom step and keep the map centred it is best to keep the info bubble open.


| | |
| --- | --- |
| | Of course, any such tool is only as good as the data in it, so we welcome (and need) submissions from Australia and around the world. We need your Australian Football club or league's name, web address and location (such as clubrooms, headquarters or usual field for playing or training). |
Location should be in latitude and longitude, to 4 decimal places. You can use the map to find your location - when you are satisfied you're centred over it, use the coordinate readout below the map. Google Earth is another method - under Tools / Options / 3D View set the "Show Lat/Long" to Decimal Degrees. Send your information to us by email or login to WFN and add a comment to this story, and we will periodically update our database. Note that currently we are only displaying locations that also have associated websites, but if you do not have a website for the organisation you can still submit the details as we will build an equivalent database allowing that also.
Initially we have mainly entered some Australian clubs and some from the BARFL as their website provided the initial inspiration and their website administrator kindly provided some initial data. Over time we hope this will become a great tool for seeing the spread of Australian Football across the world.
Update 10 Dec 2007 - Our Atlas has been tested and should work under Internet Explorer 7, Firefox and Safari. It is not fully compatible with Internet Explorer 6.