Tigers taking footy to the Thailand Institute of Physical Education
Sunday, October 07 2007 @ 02:22 pm ACST
Contributed by: Aaron Richard
Views: 3,830

The Thailand Tigers Australian Football Club recently conducted a workshop for the Thailand Institute of Physical Education (IPE Bangkok campus) about the game of Aussie Rules. Attended by around 70 students, the workshop was a great introduction to the game, and included the history, the skills and rules, and the people involved in the Australian Football League.
An important highlight was the current growth of the game in Asia, particularly in Thailand, and the potential for expansion into the Thai sporting community beyond the traditional playing base of expat Australians.
This report courtesy of the Tigers' president Ryan Collett.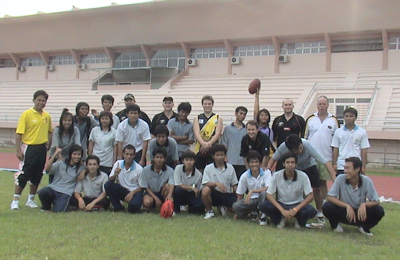 After the workshop with assorted Tigers players, the students bravely walked on to the field for their first ever game of Aussie Rules and for first-timers their performance was outstanding. The IPE students picked up the concepts of the game extremely quickly and were even able to handpass under pressure (something a lot of players can never get used to).
On behalf of the Thailand Tigers we would like to thank IPE School Principal Ajarn Weerasak for giving us the opportunity to visit the school and work with the students. We would also like to thank Ajarn Yongsak and Ajarn Ketsara for their valuable assistance on the day.
And also to the Tigers who gave up part of their day to run the workshop – Geoff Everett (Fitzroy player from 1980-84), Brendan Cunningham, Greg Mellor (300-gamer and former captain of SANFL side West Adelaide), Saul Morgan, and Gary Chatfield – your efforts are much appreciated.
As a follow-up, Geoff Everett will be running a training session for the students at IPE on Thursday 27 September. Thanks Geoff and good luck. I'm sure we are all looking forward to seeing more Thais become part of our great game.