Beijing defeat Tianjin in first-ever all-Chinese match
Tuesday, October 09 2007 @ 03:41 pm ACST
Contributed by: Aaron Richard
Views: 2,517

The Beijing SiShen Bombers - all-Chinese expansion team of the Beijing Bombers - took on the Tianjin Normal University Demons in a 10-a-side match in the Chinese capital last weekend.
The match was the first domestic fixture in China to be played between two 100% Chinese sides, the SiShen Bombers running out winners 6.13.49 to 5.10.40 in wet conditions at the Beijing Science and Technology University.
With the match being on the weekend at the end of the October week holidays, the Beijing club had a lot of obstacles in their way. Says Andrew Sawitsch, "players were unavailable, Tianjin equipment and footy jumpers were locked away at their school, buses were late and to top it all it poured rain all day and night before and we were not allowed to access the ground that we had booked. After some time passed we were allowed to play on a nearby pitch."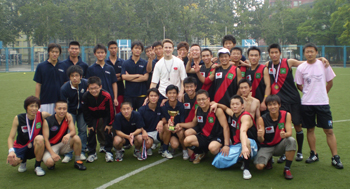 "The Tianjin Uni side have been playing for a while, but included some newer players who have recently been recruited through their university. They did struggle with the wet conditions and the pace of their opponents.
Daryl Hoffman, who coaches the Beijing Bombers who recently beat Shanghai, is also the coach of the Sishen Bombers. The team is mainly made up of students from Beijing Sport University, plus other Chinese players new to the game. Says Sawitsch, "Some have experience in playing american football and a range of other sports so they are very fast, athletic and good with ball handling skills, so they have adapted quite fast. it was a surprise to see them beat the more experienced TJNU. The Beijing Australian Rules Football Club (BJ Bombers) support the Beijing SiShen Bombers with coaching, equipment, training, transport etc, and they effectively act similar to the relationship the Bendigo Bombers have with the Essendon Bombers, or like the under 19s squad in the old AFL/VFL once did.
"They are a development squad but still a part of the club. They are sometimes at BARFC training on Sundays in the city, and some of the more experienced Australian players are sometimes helping with training sessions in the university district. Hopefully this will lead to a pathway of having a 'senior' squad that includes both Chinese and non-Chinese, in serious matches against Shanghai or international teams."
After the game, some best player awards were handed to each team, the cup was presented and it was agreed that there should be another match, the start of a friendly rivalry between the two teams that should see the standard improve and the matches become a regular occurance.
If all goes according to plan, this is also a step in the right direction for selecting the Chinese National team, hoping to make their debut at the International Cup next year.