Finnish footy on the Front Page
Sunday, November 04 2007 @ 12:00 pm ACDT
Contributed by: Aaron Richard
Views: 3,512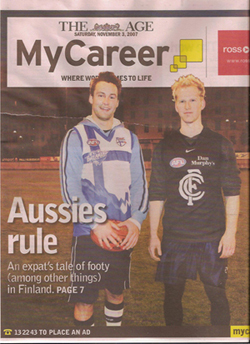 Aussie Nathan Sawicki, a member of the Finland AFL, featured on the front page of The Saturday Age's employment section this weekend. We're pretty sure that's him in the Carlton jumper, we're guessing the man to his left sporting the Finland Icebreakers jumper is a local.
The article inside mainly talks about Sawicki's life as an expatriate Australian in Finland and the employment and study chances for Aussies in the Scandinavian nation - with a small mention of the growing Aussie Rules (and rugby and cricket) scene.
The profile of international footy has beefed up considerably in the past 12 months in the Melbourne media. While it still gets written off by a large percentage of the public, the "cultural cringe" seems to be fading a bit, helped along by growing realisation about things like the AFL South Africa programs and the Demons' China project.
If anyone from Finland wants to provide details on the exact identity of the player in the photo, feel free to leave a comment on this article!