Tigers Triumph in Bangkok ANZAC Battle
Saturday, May 17 2008 @ 06:41 pm ACST
Contributed by: Aaron Richard
Views: 2,305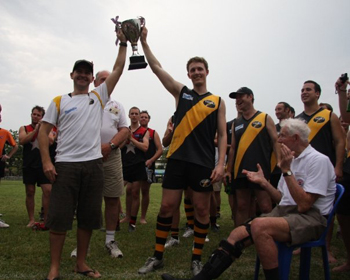 On Saturday 26 April, in front of a large crowd at Kanchanaburi, the Thailand Tigers defeated the Jakarta Bintangs by 31 points to win the prestigious ANZAC Cup.
The game was played in great spirit with neither side backing down in a contest, prompting former POW Bill Haskell to say, "We never expected the game to be this tough".
Report courtesy of Brendan Cunningham from the Tigers.
In an electrifying opening term, the Tigers got out of the blocks early and posted the first three goals before the Bintangs could mount a response. The Tigers defense led by stand-in skipper Chris Thwaites were rock-solid, however some missed opportunities cost the Tigers and opened the door for the Bintangs to post a couple of quick replies. So after a terrific start the Tigers only found themselves up by 14 points at the first break.
The second quarter was a much more competitive contest with the Bintangs winning a lot of the ball and converting into full points. However the Tigers were able to answer every challenge by the Bintangs with their mass of forwards in David Baguley and Ryan Collett proving too many for the Bintang defense to man-up, and at half time the lead was a steady 22 points.
The third quarter was indifferent for the Tigers, as they dominated the play for the entirety of the quarter, but were unable to convert on the scoreboard – kicking 1 goal 8 behinds for the quarter. However with this much of the play the opposition were unable to close the widening gap.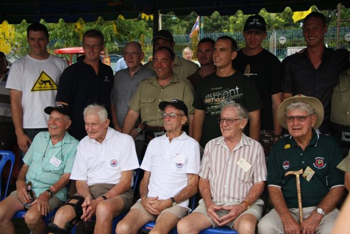 The last quarter needed the Tigers to hold firm against the opening onslaught expected from the solid Bintangs, Rexilius and Hoo were running out of defensive brilliantly, getting great assistance also from Bedford who as usual was showing his younger counterparts how to tackle, chase, harass, and win the footy.
In a moving after match presentation, Ben Will was awarded the 'Chicken Smallhorn' cup for best player afield, which was selected by the five WWII veterans who attended the game. Afterwards Eric Wilson of the Quiet Lions tour addressed the crowd and thanked both teams for their efforts. The match is considered an important part of the ANZAC day events in Kanchanaburi and gives people from all generations a chance to pay their respects to the ANZAC spirit. Lest we forget.
Final Scores: Thailand Tigers – 11 . 15 . 81 defeated Jakarta Bintangs - 7 . 8 . 50