IPL to AFL - Ponting promoting football in India
Friday, May 30 2008 @ 06:37 am ACST
Contributed by: Ash Nugent
Views: 7,565

| | |
| --- | --- |
| | Yuta Kobayashi, one of the AFL's International Development Coordinators, was recently in India where he assisted AFL India with their plans to send a team to this year's International Cup. The AFL and AFL India are taking several steps to get an Indian side to the tournament, including recruiting a high profile Australian cricketer's support. |
India's football program is currently limited to Kolkata (formerly Calcutta - India's fourth largest city, situated in the country's east). AFL India has a pool of around 70 players in training and the organisation has its eyes set on talent from other sports. The Indian team won't be the most experienced side at the International Cup, having only recently been exposed to the game, but the side will still be comprised of competent athletes.
As many Australian football leagues around the world have realised, juniors are the key to a sustained program. AFL India footballers received valuable practice whilst exposing school children to Australian football when they played an exhibition match as a curtain raiser to a school soccer final. The sport was very well received by students and teachers alike, and the viability of a schools program is being investigated.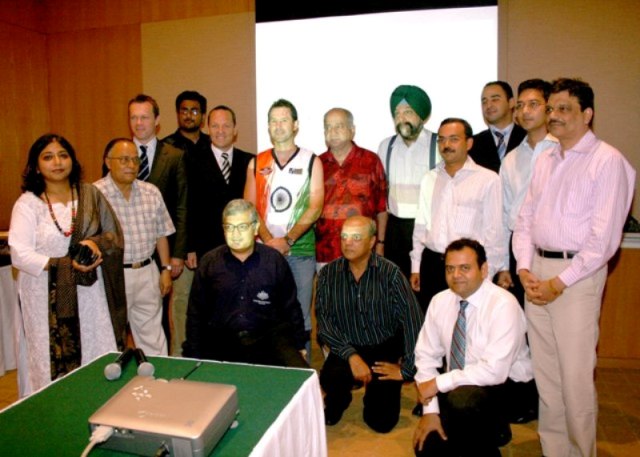 Most encouragingly, Australian cricket captain Ricky Ponting was the special guest at an AFL function, promoting Australian football to Indian business, media and the wider community. Cricket is India's de facto national sport. Cricketers in the country are very highly regarded, with the sport often described as a religion. In recent years India has demonstrated its position as the major player in world cricket's financial wheeling and dealing, as shown by the inaugural Indian Premier League, drawing many of the planet's best cricketers to the lucrative Twenty20 tournament.
Ponting has now headed to the Caribbean as Australia takes on the West Indies, but prior to that he joined the IPL with the Kolkata Knight Riders. He's also a passionate Aussie Rules fan and the North Melbourne Football Club's number one ticket holder. The AFL has clearly recognised Ponting's ability to reach the Indian people. Perhaps other Australian cricketers with strong football links, such as Shane Warne (at one time a St Kilda reserves player and still a force in the IPL), might prove to be the key to developing Australian football in India.
On more than one occasion India has been suggested as an ideal location to develop Australian football. That's probably overlooking a few major hurdles, but hopefully Indian representation at this year's International Cup can help launch the world's second most populous nation out of the starter's blocks.