Football's home ground in Tianjin
Thursday, June 05 2008 @ 07:01 am ACST
Contributed by: Brett Northey
Views: 3,581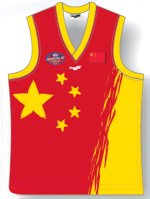 In exciting news for Aussie Rules in China, it has been announced in an article on the AFL's website that the City of Tianjin is investing $1.5 million to develop a community facility that will include an Australian Football oval. The full story is So sews seeds for football in Tianjin, by Chelsea Roffey.
We've previously been told by people in the know of the fundamental importance of securing the approval of the Chinese government, something other major sports have overlooked and as a result wasted sizeable investments. It has taken key stakeholders time, but it seems footy has successfully negotiated this issue. Read on for more information about football developments in China.
On hand in Melbourne's sister city for the sod turning ceremony were Melbourne Lord Mayor John So (himself of recent Chinese heritage) and AFL Community facilities manager Ken Gannon. At last Thursday's ceremony were Tianjin government officials, Melbourne City Council representatives and Chinese businessmen. Gannon told them of the sport, "We believe its unique characteristics bring people together, and we hope that these characteristics can be engendered here and grow and develop as our game crosses many cultures and brings its values through that game".
Other good news is that Nankai University Professor Gao hopes to offer Australian football as a formal class in his university in the near future, and plans continue towards the aim of playing an AFL match at the 2010 World Expo in Shanghai. Meanwhile as many as 10,000 children are now believed to have been exposed to lessons in the game in Suzhou, near Shanghai.