IC08 Preview - Peace Team ready for battle
Saturday, August 09 2008 @ 01:05 pm ACST
Contributed by: Ash Nugent
Views: 8,713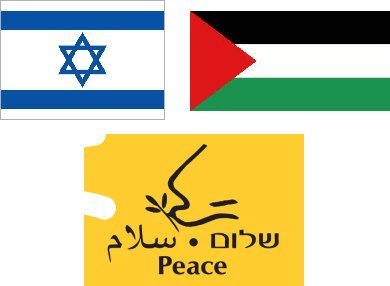 One of the teams present at this month's International Cup won't represent a country. Yet the AFL's approval of the team, which attracted some scepticism from facets of the international football community, will result in Israelis and Palestinians of Islamic, Jewish and Christian faiths pulling on a "Peace Team" jumper and representing unity in a region troubled with violence.
WFN spoke with Roni Kresner, Director of Information & Project Development at The Peres Center for Peace who put things in perspective. "There is no AFL field in Israel or the Palestinian Authority; AFL equipment can not be purchased in this region, and had to be flown in from Australia; there are no professional AFL coaches; and the players speak different languages – Hebrew and Arabic – and accordingly all instruction must be translated into both languages."
And if trying to train a group of players that don't share a common language wasn't difficult enough, "Israelis cannot enter the Palestinian Authority, and Palestinians cannot enter Israel without permits, and so, in order to hold joint training sessions, the Peres Center organised permits for the Palestinian players, allowing them to attend training sessions in Israel." Positively these hurdles have been overcome and the team will partake in the 2008 Australian Football International Cup.
The Country and Australian football

The Peace Team is a team drawn from the Israel/Palestine region. Israel has a population of over 7 million, the West Bank has a population of around 2.3 million and the Gaza Strip has a population of around 1.5 million. It is a mixed Palestinian-Israeli team that is organised by an Israeli and a Palestinian NGO (The Peres Center for Peace and Al-Quds Association for Democracy & Dialogue, respectively). It is the only team at the International Cup that isn't representing a country.
Football has been played socially in Israel in the past. Unfortunately plans for a league there didn't eventuate, although there remains an interest in Australian Football in the country and a Facebook group has been set up to coordinate efforts. Members of the Facebook group provided competition for the Peace Team in their build up to the International Cup.
According to Kresner, "The Peace Team was organised through the Peres Center for Peace/Al-Quds Association for Democracy & Dialogue's "Twinned Peace Sport Schools" program which includes some 2,000 youth aged 6 to 13 years. Coordinators and coaches in the program put the word out in the different communities that we were looking to recruit an Australian Football team, and then we had about 100 guys turn up for the first meeting, and more in the subsequent weeks."
Following this "an initial introduction meeting was held in January, where we introduced the game by showing a DVD as well as featuring a practice match played by expat Aussies. Then for the following 2 months or so we had many different guys coming to the training sessions, checking whether they were interested in learning the sport. We targeted players from sporting backgrounds, mainly from ball skills backgrounds, taking fitness and physique into consideration as well as basic coordination skills with the oval ball. From March we have had a squad in training, coming to practices at least once or twice a week."
Strengths and Weaknesses

A major weakness is that "85% of the players hadn't seen or touched a footy before." Furthermore "not playing on, or seeing a proper footy pitch or goals before they reach Australia, and not having experience in playing with proper referees (the calls will be in English, which is not their mother-tongue, and they are not familiar with the calls and signals, as they have no opportunity to watch the game at a professional level, or any other level for that matter!). Obviously, the players only having 23 training sessions and 2 short training camps means that they have not had huge opportunities to improve their play."
But on the upside "the majority of the players (are) from sporting backgrounds". The superior assistance "that Coach Simon got from Kevin Sheehan, James Demetriou, Nick Hatzoglou, Ron Barrasi and of course "Dipper" has helped the players skill-wise, tactically and most of all mentally, to become strong as a team and use their passion to overcome their lack of experience" and no doubt make other some of their competition jealous.
Players to watch

Kresner won't say a word, "They are our secret weapons…"
Form guide

Three practice matches have been played against Australians in Israel so far. The Peace Team lost the first game by two points, but won the second game in convincing fashion, by 40 points. The third match, played last week, with Dipper and Barassi on board, was again won by the Peace Team by 20 points.
Bottom Line

With a team full of players that not only don't share a language, but who have limited experience playing Australian Football, a near-bottom finish is a fair call. But Peace Team fans shouldn't despair, Coach Simon has different plans, "We're not coming to Oz just to look pretty, we're coming to let everyone know that we have arrived, and that we're here as a united team who have overcome many obstacles to prepare and compete against whoever we come up against TOGETHER as ONE team – Palestinians and Israelis." And he has ex-AFL stars' support in Dipper and Barassi to help. Expect "110% fighting spirit against the big boys" and who knows, perhaps they will even cause an upset.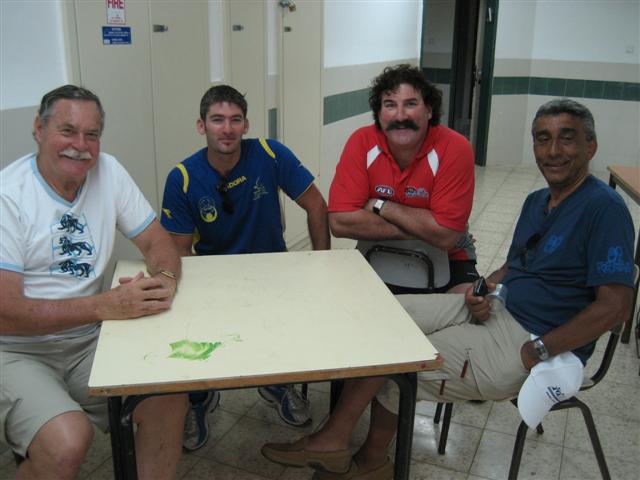 Barassi and Dipper flank Coach Simon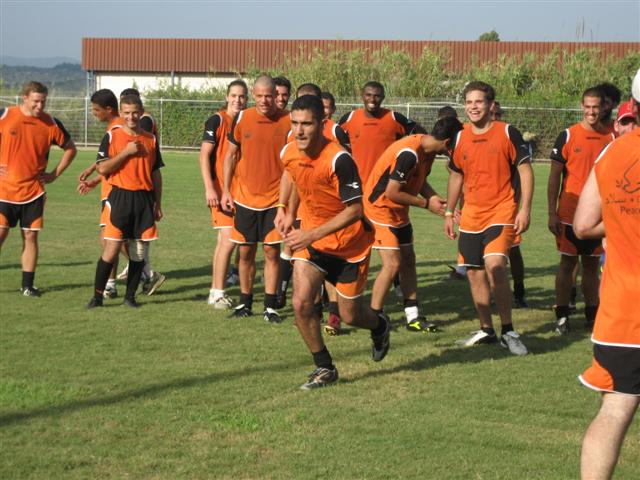 Peace Team members performing training drill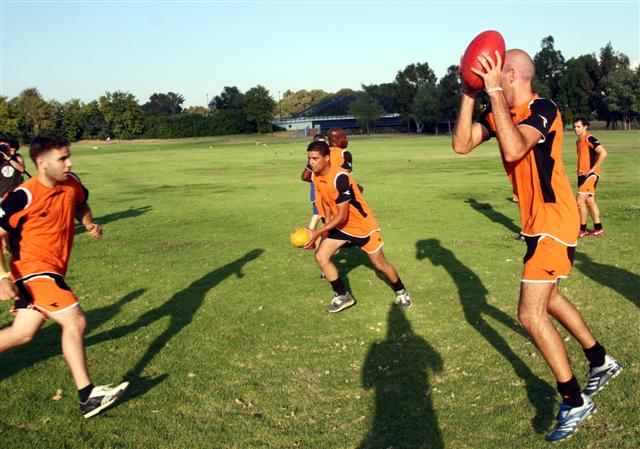 Peace Team fine-tune skills for the 2008 International Cup