The Bears of Balikpapan bring footy to Borneo
Sunday, August 10 2008 @ 04:23 am ACST
Contributed by: Aaron Richard
Views: 6,439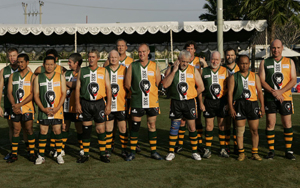 The Bali 9s last June saw the debut of two new teams in South-East Asia - the Timor Leste Crocs and the Borneo Bears. Both teams were created this year, with the Bears based in Balikpapan, a city situated on the island of Borneo, in the Indonesian province of East Kalimantan.
A few months on, the club was on the training track, with a squad of Australians, Kiwis, Europeans and locals. In honour of the Kalimantan Sun Bear found in the surrounding jungle, the team took on the name "Bears", starting a relationship between the club and a local Bear sanctuary which the club is helping both through donations and volunteer assistance.
In addition to another tournament in Bali in October, the Bears starting an Auskick program in two weeks' time and plans for a mini-league in local schools.
The Bears had their genesis in January when a few Aussies got together at a Mining, Oil & Gas function at the Le Grandeur Hotel in Balikpapan. One was Glen Wilson, who had previously discussed a footy club with a few other people around Balikpapan but nothing had eventuated until this point. From that day on things grew over a few short meetings and numerous discussions to see how the general feeling was and in just about no time, every location in Balikpapan and surrounding areas where Australians frequented, the footy club was hot on the agenda.
One of the founding Aussies, Dean Reardon, tells us the club has around twenty-five players, but some are "always lost in the jungle", coming out to play when a big match is on. Others live in and around Balikpapan, East Kalimantan. As Reardon explains, "There are about 16 expat Aussies, a couple of Kiwis, a few Europeans and 5 local nationals. Most of us are over 35 years old. I flew my dad (who's 67 - pictured below with his sons) and brother up for the first game in Bali because we were a bit short. Dad outran both his sons and played the full 4 games on the day."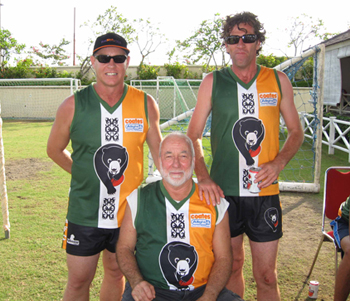 "We have had great support from a few of the South East Asian teams in getting us off the ground. Especially from Gunny and the Bali Geckoes boys and Big Rooster and the boys from Singapore have been a real help."
Reardon says they plan to definitely grow the club with more locals. "We are starting our AusKick in two weeks' time after the kids get back from break. Hopefully we can get some support from Auskick Australia to support some balls etc to get this moving. Got some good interest from a bunch of football hungry kids."
The Bears' next target will be to play the next Bali 9's in Bali in late October 2008, which will likely see at least Jakarta, Bali, Timor and Borneo take part.
The Bears also have a website in the works, with BorneoBears.com coming soon.