Preview of Asian Championships
Sunday, August 31 2008 @ 04:55 pm ACST
Contributed by: Graeme Carey
Views: 2,464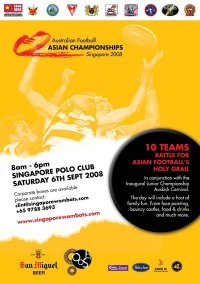 Saturday, September 6th sees the 9th edition of the Asian Championships, the holy grail of football in this part of the world. This year sees 10 teams competing in two groups under a lightning premiership type format. Whilst in the past the all-important draw has been random, this year sees the finalists of the 2007 Championship, Hong Kong and Bali deliberately drawn in opposing groups. A further innovation is the introduction of semi-finals where, in a cross-over manner, the top two teams of each group will meet, the winners to contest the Grand Final.
Because of the intense nature of the competition, being played over one day, often in extreme weather conditions, fitness and depth of squad are often major contributing factors in determining the outcome. So far, only 3 teams, Hong Kong (3), Singapore (3) and Indonesia (playing as a combined Jakarta-Bali side) have won the Asian Championships, though Bali have finished runner-up in the past 3 years.
The 2008 championships will be held on the grounds of the Singapore Polo Club and will offer a great venue for the Asian Champs including for the first time 5 star corporate and VIP entertainment plus a dedicated kids play area with jumping castle, face painters and more.
The day will be jam-packed with great footy action. Morning games will be played concurrently on both ovals and the afternoon session concluding with all the big games and finals on the main oval. The day will conclude with the best 2 teams in Asia playing off in the Grand Final at approx. 5pm.
For the first time this year, reflecting the increasing interest in the game in Asia, an underage competition involving teams from Singapore will be held in concurrence with the Championships.
Whilst the draw is scheduled to be undertaken on Monday 1st September at the Australian International School, below we provide a brief synopsis of the teams, and a short assessment of their chances. Please note the views are the writer's own and reflect his personal biases and not necessarily those of the clubs with which he is or has been associated!
Singapore Wombats – hosts and deserved tournament favourites. Finalised their preparation with a good win over the Malaysian Warriors in Kuala Lumpur on 23rd August. Also won away in Jakarta earlier on in the year. Were disappointing in last year's Championships in Bangkok and will be looking to make amends. Favourites at 1.45 on the virtual TAB
Hong Kong Dragons – Current champions who always perform well on the day. Were defeated by Thailand in Pattaya at their last outing. Normally bring a strong squad and this year is expected to be no exception. Keep safe at 2.00 on Virtual TAB.
UAE Heat – Played as Dubai Heat last year in Bangkok and performed well in their inaugural attempt at the Asian Championships. Will have learnt from that and with football going ahead in leaps and bounds in the Middle East can be expected to perform very well. A real chance at 2.10 on Virtual TAB.
Bali Geckoes – form a bit unknown this year but having been bridesmaids 3 years in a row, will be desperate to go one better this year. Were defeated by their arch rivals Jakarta Bintangs at Cibubur in Jakarta earlier on this year but are bound to be competitive in this event. Likely to make the semis. 2.60 on Virtual TAB.
Thailand Tigers – Could be the surprise packet. Had a very good win over Hong Kong recently and beat the Jakarta Bintangs at Kanchanaburi in the annual Anzac Day game. Travelling away has been their problem in the past and it will depend on the squad they can muster as to whether they are a real contender or just make up the numbers. 5.00 on Virtual TAB
Jakarta Bintangs – Form has not been all that great this year, but having said that have played away games in Thailand and Malaysia, not easy places to win. Won well in Laos, beat the Geckoes at Cibubur but lost to Singapore on home soil. Normally competitive but the semi finals appear to be as far as they will go. 6.50 on virtual TAB.
Malaysian Warriors – Beat Vietnam and Jakarta at home but lost both encounters to Singapore (home and way). Close proximity to Singapore should enable them to bring a large squad. Were disappointing last year in Bangkok failing to win a game and will be looking for a much better performance this year. A chance to make the semis depending on the draw. 10.00 on Virtual TAB.
China Reds – Football in China has developed substantially in recent years with both Beijing and Shanghai having well established sides playing annually for the China Cup. Indeed, China was able to send an indigenous team to Australia for the International Cup, something most of the Asian sides (other than Japan) cannot achieve. Their performance in the Asian Championships will depend very much on the depth of squad they can muster, but could surprise. 10.00 on Virtual TAB
Vietnam Swans – the Swans are another club on the move with a good administration and burgeoning development in the sport. Comfortably defeated Laos recently but were well beaten by the Warriors earlier on in the year. Depth in numbers may be their problem 25.00 on Virtual TAB.
Lao Elephants – first time at the Asian Championships and are yet to win an international game. Lack of experience and depth of their squad could test them severely. Will probably be happy to be competitive. 100.00 on Virtual TAB