Asian Championships Team Profiles - Part One
Thursday, September 04 2008 @ 10:33 am ACST
Contributed by: Graeme Carey
Views: 5,598

With the Asian Championships hitting Singapore this weekend, we're previewing the teams on display. The first to be featured are the China Reds, UAE Heat, Bali Geckoes, Malaysia Warriors and Jakarta Bintangs.
China Reds
Whilst China's all-Chinese Red Demons are returning from the International Cup, the representative side of the expat community will be heading to Singapore.
The China Reds are a combined Shanghai Tigers and Beijing Bombers squad first formed in 2007 for the Asian Championships in Bangkok. The Tigers were formed in 2003 and the Bombers far more recently. They enjoy a healthy internal rivalry with Beijing playing at the Beijing Clover Turf Farm and Shanghai at the Shanghai Jiangwan Sports Stadium (known as the The House of Pain). They now play for the All-China Cup and Beijing have proven superior this year over their more established rivals
The Shanghai Tigers, playing as the China Blues first appeared in the Asian Championships at Kuala Lumpur, Malaysia (2005) and Manila Philippines (2006) and the Reds made their debut in Bangkok in 2007. Their overall record in Asian Championships is quite good, winning one game in KL, and two in Manila and Bangkok.
Drawn in Group A against Bali, Singapore , Malaysia and Jakarta, they will have a tough time, but on past performances should notch up a win or two.
This year the Reds will be touring with a full squad of 30 who have been in training for several months. It is not known whether Greg Stafford, former Richmond and Swans star who played for China last year, will make a re-appearance. The Reds tested the international waters by participating in the Manila Cup in May and returned with a more than respectable 2-2 result.
Traditionally starting behind the 8 ball by playing a combined squad, the China Reds this year have had the advantage of a hit out in Beijing in late July. which gave the Bombers and Tigers a chance to meet and play against one another prior to the Champs. Now, the best of both teams have combined into a squad of the Reds who are eager to show their worth on the international stage.
UAE Heat
The Dubai Heat was established in February 2007 just in time for the first Dubai 9s tournament. Later in that year, they participated in the Asian Championships in Bangkok as the UAE Heat, and were considered somewhat unlucky not to have made the final, winning 3 games and losing just one.
The Heat has a fast, tough and exciting style of play and is hoping to carry on its recent success in the Middle East by taking out the honours in the 9th AFL Asian Championships held in Singapore this September.
They have a strong squad with numerous players who have played at reasonable Amateurs level in Australia. Captained by former North Shore player Andrew Bereza, some of ther key players are clever rover/forward Scott Fitzgerald formerly from Beaumaris Sharks, center Arni Naim ex- Glenroy, Oak Park and Pascoe Vale F.C, strong-marking full-forward or ruckman Rhys Ware from St Bernards FC, and midfielder Sam Troon from Old Scotch.
Drawn in Group B alongside Hong Kong, Thailand, Vietnam and Laos, the Heat have a strong semi final chance.
Bali Geckoes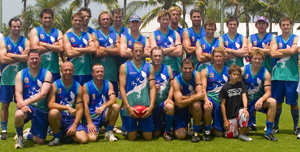 The Bali Geckoes have been a power in Asian Football for over 10 years. Enjoying a magnificent rivalry with the Jakarta Bintangs, inaugurators of the Bali 9s and now the Bali Masters, the club has never been far from the headlines.
The Asian Championships in 2000 and 2002 were won by the Indonesian Bintangs, a combined Bali-Jakarta team, however in recent years the clubs have fielded separate squads. The Geckoes have made the final in each of the past 3 years but failed to land the major prize, last years defeat being particularly heart breaking, a game that went to extra time.
As usual they have a strong squad featuring well known players such a Peter Muir who has been one of the best players in Asia over many years, Mark Parthezius, current Captain and President of the Geckos, the Carroll brothers, veteran Greg Hinchcliffe, Leigh Hughes, Marcus Wilson and Josh Bovell.
Fitness has always been one of their strengths, and with their run and carry style the Geckoes will be in it for a long way. Their Group A clash with Singapore should be a highlight of the tournament, and may well determine who finishes on top of that Group.
Jakarta Bintangs

The Jakarta Bintangs, established in 1995, with the picturesque Cibubur Oval as their home ground, are one the most successful football clubs in Asia, famous not only for being a good strong, consistent club, but for hosting the largest AFL Grand Final breakfast outside Australia.
Additionally, and perhaps more importantly, they have been leaders and innovators in developing grassroots football in Indonesia, particularly in getting indigenous Indonesians to take up the game. One of the fruits of this development will see the junior Indonesian Bulldogs take part in the inaugural Under 16 Championships which will form part of this year's event in Singapore.
The Indonesian Bintangs , as a combined Jakarta-Bali side won the Championships in 2000 and 2002 and played in the first four grand finals, but since then as the Jakarta Bintangs, success has eluded them and their performance in recent years has been, to put it mildly, disappointing.
Drawn in Group A against arch rivals Bali, Singapore., Malaysia and China the Bintangs will be looking to re-establish themselves as an on-field power.
The Bintangs will be bringing a large, talented squad of 26 players to the Champs. Players to watch include coach Matt Jolly, an Asian All-star last year, new coach and emerging TV star in Indonesia. MJ can be relied on to have a huge championships with his constant running in the midfield.
Development Officer Chris Bandy is another hard-running midfielder who loves bagging a few sneaky goals, captain David "Butcher" Edwards will be looking to inspire the team through his on-field performances. A tough, skillful Forward/Backman he was an Asian All-star last year. Vice-captain and ruckman Damien "Big Noodle" Smith was an Asian All-star last year and will be looking to fly high in the ruck again. Liam "Sledge" Hammer, a former Thailand Tiger, leads a strong defence.
The Bintangs have a proud record at the Champs, and are confident of getting to the semi-finals. Their fate may well be determined in the Bali game, a must-watch encounter.
2008 has been a big year of transition for the Bintangs, with a new Coach and Captain being appointed. But, the big squad for this year's champs has a good mix of old and new players and the team will be looking to make a big impression in Singapore.
Malaysia Warriors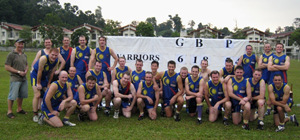 The Malaysian Warriors were formed in the year 2000, though a team known as the MARK (Malaysian Australian Rules Klub) Tigers existed as early as 1992. Based in Kuala Lumpur, with their home ground at the well-appointed Alice Smith School, the club has always been well administered, has an active social calendar and a burgeoning Auskick programme. However, on field success has eluded the Warriors and whilst in recent years they have been extremely difficult to beat, both at home and away their best efforts in major trophies have been as runners-up in the Bali9s in 2006, and runners-up this year in the Manila Cup.
Their best effort in the Asian Championships was in 2006 in Jakarta where defeat to the Bintangs in their final round game cost them a place in the final. They were disappointing in Bangkok last year failing to win a game and will be looking to improve signigficantly on that.
Being in close proximity to Singapore, the Warriors will be bringing a large squad of over 30 players, headed by long time Asian football players Scott McDonough, Jason Flanagan, Phil and Andy Lee, and Paul McCalman. With that level of experience, and supplemented by running players such as ex-WAFL player, Glen Sergeant, Adrian Keet and ex-University Blues player Michael Thomas, the Warriors are bound to be competitive.
They are in a tough group which includes old enemies Singapore, Bali and Jakarta as well as the China Reds. It will not be easy but given they will be using the occasion to unveil a new guernsey design, the team will be particularly keen to put up a good showing, and must fancy their chances of reaching the semi-finals.