Asian Championships Team Profiles - Part Two
Thursday, September 04 2008 @ 12:07 pm ACST
Contributed by: Graeme Carey
Views: 4,085

In this article, we profile host club the Singapore Wombats, as well as last year's hosts the Thailand Tigers, powerhouse Hong Kong Dragons, the Vietnam Swans and the debutant Lao Elephants.
Singapore Wombats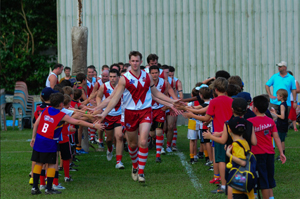 For opposing teams, defeating the Singapore Wombats has always been one of the major challenges of Asian Football. Somewhat unfairly regarded by other clubs as being arrogant and self-satisfied, they have in a defacto sense become the "Collingwood" of Asia, though more successful. Winners of the Championships in 2001, 2005 and 2006, they will be looking to add to that on home turf this year, particularly given a rather disappointing performance last year in Bangkok.
As hosts, they have left no stone unturned to ensure that both on and off the field this year's championships are the best ever. Their normal home ground, the windswept and spectator unfriendly Turf City arena has been swapped for the pristine sorrounds of the Singapore Polo Club and the organisation of the event has been par excellence.
Drawn in Group A, they will certainly have a tough game against Bali, but have good recent wins over both Malaysia and Jakarta and if they can maintain that form they should certainly make the semi-finals and have a strong chance of going further.
Well coached by Ash Martin, they looked very fit in their recent Changi Cup game against Malaysia and with old hands Andrew Taylor, Lou Milosevic, Billy Barker and company in fine form backed up a hard defence and strong running midfield, they are going to be very hard to beat.
On a related note, the Wombats deserve great praise for including in the programme both an Auskick event, and for the first time in Asia an Under16 competition featuring teams from Hong Kong, Indonesia, Singapore and the Singapore Gaelic Association.
Such initiatives are magnificent to see and provide great encouragement for the future of the game in Asia.
Hong Kong Dragons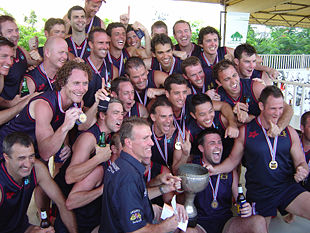 The Hong Kong Dragons are one of the older, if not the oldest, established team in Asia, having been operational since 1989. Over time, they have probably been the most succesful having won the Asian Championships three times, in 2003, 2004, 2007, last year's victory coming in an extra-time thriller over the Bali Geckoes.
Their form this year is mixed, winning the Manila Cup, but going down in their last outing to a resurgent Thailand in Pattaya.
As defending champions, drawn in Group B, they will undoubtedly bring a strong squad to Singapore, led by experienced players such as Craig Francis, Nathan Byrne, Rob Calwell and Matty Wu and whilst Thailand and UAE should provide strong competition, they should safely negotiate their way to the semi-finals, and potentially beyond.
Vietnam Swans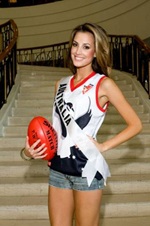 2007 will be remembered as a big year for Australian Rules Football in Vietnam. It's the year that both Hanoi and Saigon combined to form Vietnam's first ever National Footy team, the Vietnam Swans. The team debuted in the Asian Championships in Bangkok and whilst they failed to win a game boasted an impressive squad of over 40 players, and were far from disgraced, going down narrowly to strong teams such as the Jakarta Bintangs and Bali Geckoes.
With a spectacular guernsey (see picture) and some good recent form including a win over the Lao Elephants, the Swans are looking to be far more competitive in 2008 in Singapore. Drawn in Group B they face tough assignments against title holders Hong Kong, the UAE and Thailand but on recent form should be able to account for the Lao Elephants.
Lao Elephants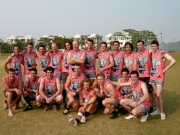 The new boys on the block, the participation of the Lao Elephants in the 2008 Asian Championships is eagerly awaited in Singapore. Boasting yet another spectacular guernsey, the boys from Vientiane are expected to put up a competitive performance.
Whilst their form is nothing to write home about, having yet to win an international they have not been disgraced in outings against the Jakarta Bintangs and Vietnam Swans. Drawn in Group B against Hong Kong and UAE sets them a mean task but the matches against Vietnam and Thailand, effectively local derbies, should be hotly contested. Coached by Michael Hassett and with captain Santhisouk Sengdara the Elephants may be capable of causing a surprise.
Thailand Tigers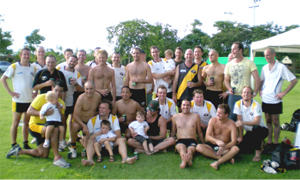 The Thailand Tigers have always been one of the most competitive sides in Asia. Extremely difficult to beat on their home territory, they have developed over the past few years into a tough, hard running unit. A recent win over title holders, Hong Kong albeit in Pattaya is indicative of the club's playing strength.
With Asian Football veterans Bob Bedford and Gerry Henderson still involved, the club knows what it takes to win an Asian Championship. Drawn in Group B, the Tigers should be able to account for Indochinese Cup rivals Vietnam and Laos, but will face stiff opposition from UAE and Hong Kong, and must win at least one of these if they are to progress to the semi finals.
Coached by David Paterson and with players like Damien Hoo, Jarrad Rexilious and strong defenders such as Chris Cleave, Ryan Collett and Michael Sammons the Tigers have a solid core and could be the big surprise of the tournament.