Under 16s Asian Championships - Bulldogs maul Wombats, slay Dragons and club Cubs
Tuesday, September 23 2008 @ 02:10 pm ACST
Contributed by: Graeme Carey
Views: 4,664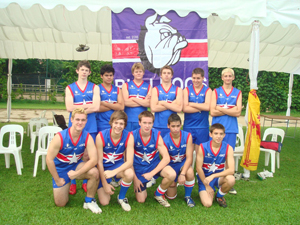 The boldest innovation of the 9th Asian Championships in Singapore on September 6th was the first Under 16s Championship involving teams from the Jakarta Bulldogs, Singapore Wombats, Singapore Gaelic Cubs and Hong Kong Dragons. Anyone who was present could not have been anything but uplifted to watch these young lads, the vast majority of whom were non-Australians, show the levels of passion, excitement and commitment that we have come to expect with our game.
After the preliminary rounds it was clear that the Jakarta Bulldogs and Singapore Wombats were the two superior teams and they met in the Grand Final with the Bulldogs triumphing 5.6.36 to 2.1.13.
There was no doubt the Bulldogs benefited from the Junior Development programme spearheaded by Chris Bandy in Indonesia, and their greater skill level and experience allowed them to carry the day.
However, it was not the result that was important here, it was the fact the event took place at all. Many of us who have been involved in Asian Football for years saw this a watershed moment in the development of the sport. The Jakarta team had 5 Australian players, the remainder were Indonesian, Finnish (Tuomas Anttila – remember that name, he can play), English, Scottish, Irish, and one New Zealander. Quite a feat given most of them had not even seen a Sherrin until about 18 months ago.
The make-up of the other teams were similar with, of course, a number of Chinese faces in the Hong Kong and Singapore teams.
The South East Asian catchment area is extremely cosmopolitan with a large number of International Schools, and significant expatriate populations within the major cities. These are the kids that are most likely to take up the game, though inroads, particularly in Indonesia, are being made into the indigenous populations.
Given the obvious enthisiasm shown by the participants, every one of these lads now becomes a potential ambassador and evangelist of the game.
Congratulations to the Singapore Wombats who had the foresight, vision and courage to include this UnderAge competition as part of the Championships. They can be justifiably proud of their success and in the distant future when historians look back at the development of Australian Football in Asia they may well regard this as a pivotal moment.
Photos courtesy of Catherine Eddy from the Jakarta Bintangs.