Writers required
Tuesday, October 07 2008 @ 12:10 pm ACDT
Contributed by: WFN Administrator
Views: 3,259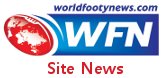 As football continues to expand its presence outside of Australia, greater news coverage is also required. Being a volunteer organisation our writers are limited by how much time they can commit to the site and occassionally we need to put out a request for assistance.
Our current areas of need are Oceania and the UK & Ireland. If you are keen to help out but lack the time to cover an area by yourself, we also require further assistance covering the USA and Europe. You don't need to be based in that particular area (most of our writers are in fact in Australia) nor do you need to have been involved with international football before. All you need is a spare hour or so a week and adequate writing skills.
We will give you support, provide plenty of contacts, and no particular computer skills are required - we'll show you how to upload your stories through a relatively simple web page. So if you have an interest in supporting international footy and getting a behind-the-scenes view on the game's growth, then consider volunteering to write for WFN. Contact Ash Nugent for more information through our About Us - Contact Us page (click on his name).