Timorese coming to Darwin for Indigenous footy carnival
Friday, October 10 2008 @ 03:05 pm ACDT
Contributed by: Aaron Richard
Views: 3,378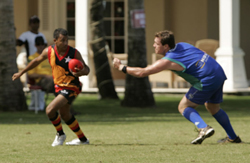 The Timor-Leste (East Timor) Crocs will be represented at this weekend's 12-team Indigenous Community Division of the AFLNT's annual pre-season carnival in Darwin, from Friday October 10th until Sunday October 12th at TIO Stadium, Marrara.
The Crocs were invited to compete as a team in their own right, however this was not possible and the team decided instead to send a small delegation to play in a combined team with Australian Defence Force personnel and East Timorese residents in Darwin.
Luke Gosling from the Timor Crocs said, "the Timorese players are very happy to be coming to Darwin and playing their newly adopted sport of Australian Rules Football. One of the Timor-Leste players to watch is Amaro da Silva, who is also a very good soccer player. With strength, natural agility and hand-eye coordination, Amaro and the other Timorese players have taken to the sport quickly."
Thus far in Timor-Leste, as well as in representative games played this year in Indonesia, the team has played 9-a-side on a soccer field. The tournament in Darwin will be the first time the players have experienced the larger field and different gameplay of 18-a-side.
Gosling says, "In many ways the Timorese players are quick and agile like the Northern Territory's indigenous players, however they lack the many years of practice that comes from growing up with a footy in their hands. The Timor-Leste players have a great opportunity to learn from playing the community teams and from their own Timor-Leste and Australian teammates."
The Crocs are scheduled to play their first match this afternoon at 5.30pm.