Interview with GB's B&F player of IC08, Luke Matias
Tuesday, October 14 2008 @ 03:40 pm ACDT
Contributed by: Peter Parry
Views: 8,587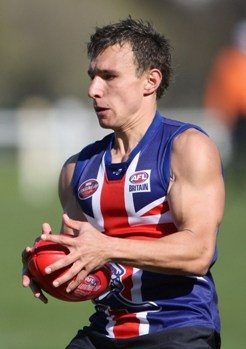 Luke Matias played for the British Bulldogs in both the 2005 and 2008 International Cups. After the 2005 IC he stayed on to play top level Amateur football in Melbourne and was featured in this WFN story.
Luke had an excellent tournament this year, being named Great Britain's Best & Fairest for the Cup and was selected in the Australian Football International Cup World Team.
WFN caught up with Luke to assess his thoughts on the progress of international footy from the second to the third IC.
1. Luke - when WFN last spoke with you, you were trialling out with Port Melbourne after playing in the 2nd IC in 2005. How has your involvement with footy progressed since then?
After missing out on final selection at Port Melbourne I was put in contact with Caulfield Grammerians FC in B Section Amateurs whom I played for in the '06 season. '06 was a massive learning curve for me as the game was obviously extremely different to what I was used to in England and clubs manage players more seriously, players turning up to training etc.
Unfortunately I missed out on the '07 season after badly breaking an ankle in a soccer match 2 weeks before pre-season started in October 2006. It's quite ironic because there aren't too many Englishmen who come over to play AFL but end up injuring themselves playing soccer.
I was set for the '08 season with Caulfield and with a great deal of help from my friends (esp. Andrew Fooks) at Middle Park Physiotherapy my ankle was getting back to 100% as the season neared. I was in close contact early this year with the GB team in Charlie Kielty (coach) and Johnny Boyle (captain) who were keeping tabs on how I was progressing.
In May I returned home and managed to play a game for my old team, The Nottingham Scorpions, along with a couple of training sessions with the new-look GB team. I started getting excited after the first training session and looking forward to the forthcoming tournament. The team looked great and had a team spirit around them that I had never seen before. The Management team had everything extremely well organised and the entire team was motivated and working well towards obvious goals.
After the long build up to the IC08, the GB team came together and played some of the best footy in its history. I was very proud to be a part of it.
2. We hear you received some pretty good gongs for your part in team GB's Cup campaign, how did that feel?
Receiving any personal recognition in a team atmosphere is always a bonus, and being named in the World Team at the International Cup Dinner was pretty much my favourite personal sporting moment. But this to be followed the next day by being named Britain B&F polling second or higher in each game, amongst a group of peers I hold in such high regard, was just unbelievable.
3. What about your day job?
After being employed for my first months in Australia as a personal trainer, which was more like a hobby for me it became obvious that I wanted to stay in Melbourne and had to start looking for a 'serious' career position. At this point I was lucky enough to find a Company who were willing to sponsor me in my chosen career path of financial broking. A Melbourne based finance firm, FINMAX Finance, sponsored me on a 4 year long term business visa and I have now worked with FINMAX for nearly three years.
4. Well Luke, I won't ask you to comment on the markets right now – we're all hoping they find the 'bottom' soon! Back to footy – playing in the recent 3rd IC of Australian Football - did you find it easier with your extra football experience to get selected this time or had competition from other players in the BARFL/WARFL/SARFL make it tougher?
Firstly, it does not matter what level of skill or experience you have, the International Cup is an absolute marathon and in no way can be deemed easy!!
Playing footy in Australia obviously is a benefit for me as it is overall a higher standard than what I was playing back home, but the strength and skill level of some of the British boys was great to see after going back in May this year. The amount the team has improved was evident in our final group stage game holding PNG goalless for the third quarter when the Mosquitoes were looking to close out a very tough game with a 5 goal breeze behind them. We ended up going down to the overall champions by 4 goals which was the score line at the end of the first term.
The structure of the competition (as documented on WFN) has changed in the UK and I was thrilled to learn that footy is now played in a number of schools in the UK as part of the curriculum. This move of attracting kids below 16 is vital if GB is going to keep becoming stronger as a World AFL side.
5. Having played in both 2005 and 2008 what are the differences and similarities that you noticed, in terms of:
Venue – Royal Park was a great venue for the competition. Three grounds in great condition along with (what seemed like) new changing room facilities made the tournament pleasant for spectators along with players.
Teams – 16 teams this year made for a far better and more structured competition than the 11 in '05. With the majority of teams making their way back for another appearance, it was great to see new countries engaging in their first hit-out in Melbourne. There was obviously plenty of coverage on the Peace Team, but it is encouraging to hear the Chinese team (as reported on WFN) sounding very positive about appearing again at the next International Cup. I hear from back home that the Finland Icebreakers are looking at a possible series with some of the domestic teams in AFL Britain which would also be great to see.
Country rounds – Personally, I really enjoyed having a round up in Wangaratta in '05 and I was happy to get out into country Victoria again this year. Having four days and two rounds down in Warrnambool really gave the travelling players a chance to see more than just Melbourne in what could be their only trip away from their homeland for the year. I also find the crowds for the International Country games are much larger which is always fun.
International Dinner – In '05 the International Dinner was nice, the Telstra Dome put on a good show. But having lived in Melbourne for the past three years, I understand the Crown Palladium is the Primary Venue in Melbourne. Not only the actual venue, but having more than 1300 people in attendance simply highlights the growth of the International Game.
Camaraderie – No change. This was my favourite aspect of the '05 tournament in that I would in no other situation have the chance to sit down and chat with a group of Samoans alongside another group of Japanese Cheerleaders! This feature did not disappoint in this year's comp. The carnival, whilst tough on the ground, was played in a great spirit throughout the competing nations.
6. What do you expect the 2011 or 2012 Cup (depending whether the cups become triennial or quadrennial) will be like given the current trajectory?
I'm unsure whether there will be a 3 or 4 year break before the next IC, as far as I'm aware I don't think it has been confirmed. Either way I think with this year's tournament being held in conjunction with the 150 year celebrations of the game and therefore having extra attention and coverage, the first thing that needs to happen is for this enthusiasm to be captured and maintained in the present competing nations. It would be a massive success to see all 16 teams back in 3 or 4 years with any extra teams being a bonus.
I don't think it would be a surprise to anyone to see the powerhouse nations, PNG and NZ back at the top. But with the amount of money being pumped into South Africa by the AFL, you would have to expect them to really close the gap on the big two as players in their school and youth programmes mature. As dark horses I would have to (from first hand experience) mention Nauru. If the majority of their team are to remain (as in the '08 season) in Australia playing the game, this team could actually be the new benchmark before too long. Also Fiji is yet to make an appearance at an IC but with the current recruiting plans of the Western Bulldogs I suspect this will change in a hurry.
One item that would affect the popularity of the International game inside and outside of Australia will be the possibility, and yes it is now an actual possibility of an International player being picked up in an AFL draft. With some of the talent on show this year I will not be surprised to see one of the PNG youngsters on the list of any AFL team in a developmental stage. For the more pessimistic of readers, it will surprise them to hear that some of the PNG youngsters have actually played in the AFL Queensland league which is obviously a very good standard of Footy. This would be just the sort of boost the International game requires, and maybe, with them being excluded from any team's salary cap, an extra couple of youngsters that a Melbourne or a Dockers side could really benefit from.
Or a Gold Coast or West Sydney side for that matter. Thanks again Luke, and best wishes in finance and footy, hopefully we'll talk again after the 4th IC!