Major WFN staff movements
Monday, November 10 2008 @ 07:20 pm ACDT
Contributed by: Brett Northey
Views: 3,631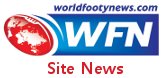 Just as international footy continues to grow, so worldfootynews.com needs to expand if it is to do the game justice. We wish to advise our readers that we've had quite a few changes of staff in recent weeks, probably the most changes in our four year history.
Leaving us due to the demands of work and academic pursuits is Peter Parry, one of our stalwarts going back to pretty much our first days. Primarily covering International Rules, Peter contributed over 70 articles, with a particular interest in the bridge between Australian and Gaelic football at amateur club level, not just the elite Tests. He'll still be based in Adelaide (but previously spent time in Wales), and no doubt we will still see Peter popping on to WFN for a comment now and then.
His IR position has been filled by Stephen Alomes (based in Melbourne), already an occasional contributor to this site.
Rod Shaw (just outside Melbourne) continues with PNG and New Zealand, but will be joined in Oceania by Fiona Austen (from Sydney), who will also provide technical support to the site.
In Britain we welcome Adam Bennett (based in Reading, UK), while further north in Glasgow is Frenchman Olivier Tresca, who will cover Scotland and assistant Aaron Richard (Melbourne) with Europe.
Covering parts of Asia, primarily Japan and China, will be Landon Blackhall, from Melbourne and with experience umpiring in the International Cups.
In the US we introduce Matt Bruce and Chris McNeil, who will assist Troy Thompson (Melbourne) and Chris Adams (Washington, D.C.).
These new writers complement the other relatively recent addition to the team, Graeme Carey, who covers Southeast Asia and lives in Kuala Lumpur, Malaysia.
Welcome to all the new volunteer staff, thanks for joining the WFN team. And thanks to Ash Nugent for gathering up our new contributors.