Thailand Tigers crush Vietnam Swans in Hellfire Pass Game
Sunday, May 03 2009 @ 07:37 am ACST
Contributed by: Graeme Carey
Views: 3,508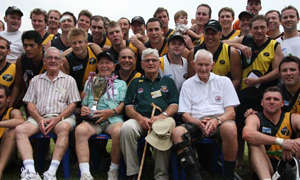 The Thailand Tigers proved far to strong for the Vietnam Swans in the annual Hellfire Pass game played at Kanchanaburi on Anzac Day, April 25th, 2009
The Tigers were younger, faster and fitter and, although the Swans played with plenty of heart, they were well defeated 91 points to 13. The Tigers got away with a strong lead in the first half – keeping the Swans goalless in the second term, and coasted home in the second half winning the ANZAC Cup, Tigers star Damien Hoo earning best on ground as voted by the 'Diggers'.
Off the footy field, both teams attended the emotionally moving Dawn Service at Hellfire Pass, followed by a visit to the Allied War Cemetery for a memorial and wreath laying service.
The Vietnam Swans were given the honour of laying our own wreath during the official service. This magnificent opportunity was made possible thanks to the Thailand Tigers who organise for a wreath to be laid on behalf of each of the clubs that have played them on ANZAC Day. This is the 5th year of their ANZAC Match, the other four teams to have played Thailand are the Malaysian Warriors, Hong Kong Dragons, Bali Geckos and Jakarta Bintangs.
The actual match was played in front of a crowd of between 300 and 400 people - including 3 ex POWs.