2009 season one for consolidation in China
Wednesday, May 06 2009 @ 07:03 am ACST
Contributed by: Brett Northey
Views: 3,926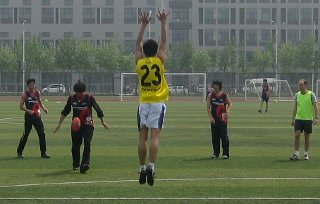 Although China has a reasonable history of expat footy it was the Tianjin-Melbourne partnership, the SuZhou schools program and the arrival of the China Demons all-Chinese side at IC08 that confirmed that Aussie Rules was starting to accelerate in the Asian giant. The building of a dedicated field was also announced, and the expat sides were working closely with locals to get a variety of these programs going. After such a successful year, could it continue into 2009? The answer appears to be "not quite", with some programs dropping back but others still showing plenty of promise.
worldfootynews.com spoke with AFL China's Andrew Sawitsch about their year of consolidation. Sawitsch is an Australian Football Development Officer, on a part time basis and supported by the Australian Football League, Beijing Australian Football Club and the City of Melbourne Office Tianjin. First up we asked him what human resources are available to keep game development going, besides his own position. "I rely a lot on volunteer support from the universities and teams and I've discussed with the AFL taking on some local people to further promote the game, I'll keep you posted on any updates". Next we turned to the question of how the national side and adult team program has kicked on after their 2008 debut at International level down in Melbourne.
"Last year was a massive year, the IC08 was a great experience and kick along for the people involved, the good and bad thing was that there was 30 people on the trip, we focused a lot on getting that to happen, they had a ball, it was a great experience for all involved - once they get back to China, it's hard for them to convince their teachers, classmates, friends and institutions what an experience it was and what Australian Football is all about and keep up the momentum.
"To add to that, a few players have graduated and found jobs in other cities. Universities are certainly the opportunity for footy in China, university students have more free time, they are open to new ideas, they can compete in matches against adults and expats and they have access to uni facilities, but primary and high schools - there will always be an issue of studying more and concern about getting injured.
"The main university teams continue to be Tianjin Normal University and Beijing Sports University and they have continued to train, especially those involved in IC08. 18th April was a 3 team practice competition held in Tianjin (featuring TJNU, BSU and Beijing Bombers 2nds team of non Australians and BSU graduates). TJNU won this pretty comfortably and it was encouraging to see some of their new players playing well".
Scores from the Sat 18th April 3 team 2009 opener practice competition (pictured):

Beijing Sport Uni 13 lt TJ normal Uni 38
BSU 48 def Beijing SiShen Bombers 9
TJNU 39 def Beijing Sishen Bombers 0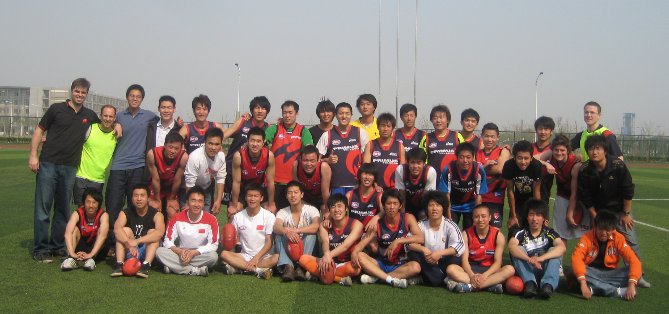 The primarily expat sides are also continuing their playing schedule, and there will also be a joint competition that should provide invaluable experience for the new players.
"The Beijing Bombers and Shanghai Tigers both look forward to a big calendar this year, they are teaming up and going to Manila on May 31st and KL for the Asian champs in August. And are close to confirming dates for the traditional China Cup, in the past three years this has been contested twice a year, one in Beijing, one in Shanghai, this year it looks like only being once as it will be extended to include the Hong Kong Dragons in the 'China Cup', in future years, this could be a really great event, to have the China Champs being the elite level of traditional 18 a side footy for China, new cities can gradually get involved and the venue can alternate each year.
"An AFL China University comp will be happening this year at a date TBC and I'm working on some new teams. The Beijing Australian Football League 9-a-side spring season will be launched later in May, this will see all of Beijing's players (local and expat) split up into three teams, for a mini season held over three weekends before July and summer hits. We hope with the success of that, it will be followed on with as many matches and events in the second half of the year".
Surely generating plenty of excitement was last year's announcement of a dedicated ground in Tianjin, a major milestone for Australian football in China and Asia. The word was that the target was to be sowing the first seeds in April and ready to play on by September this year.
"Still a work in progress, Tom Parker who is a consultant with the AFL is visiting China next week and has a meeting scheduled with the developers to hopefully push this along now that the weather is much better. It's been raised that the first match/launch later in the year could feature the Beijing Bombers, Shanghai Tigers, Hong Kong Dragons and the China Red Demons national team in some way. Will keep track of this and hope to see some construction soon.
Surely not a coincidence then that AFL Ambassador Kevin Sheedy is expected in China soon. And reports of Beijing finding a new area to play their games?
"Yes the good news for the Bombers is last year they found Xiaowuji football ground, a facility that has a grass area that has two soccer fields together, while China has a fair few soccer pitches, finding one without a athletic track around is actually pretty rare. It is quite close to town and is pretty newly developed, so the Bombers have got in early and got an arrangement to book it about once a month for games. We also have a school we train at for regular training that is just synthetic surface. Last year Beijing defeated Shanghai there and there were two 18-a-side matches also played at Xiaowuji, these were both between the Beijing Bombers and the China Red Demons, and were before and after the International Cup respectively. This year the Bombers and AFL China plan to use Xiaowuji a lot more often, probably for the most part will be just booking one soccer field and playing 9 a side, save splurging on a double booking to play full field for special events, such as visiting teams or other matches against the Red Demons".
On the downside it's understood that the Melbourne Football Club and the City of Melbourne, while still being fans of the AFL China project, have decided to scale back their support in 2009 - not surprising in the current economic climate. There has also been a drop from the big numbers of children being taught footy lessons in SuZhou, near Shanghai.
"That is continuing but has softened off somewhat and honed down to only two schools, more specifically, the schools that had teachers recently go to Australia. In addition there is a new batch of kids, as previous ones have graduated. It's still a part of PE class and the teachers are still fans of the game, ages are about 10-12 and there would be a few hundred who are having a kick of the ball in SuZhou.
What about the global financial crisis - will it impact on footy in China this year?
"Yes and no, I don't think a lot of the obstacles facing local football development in China are simply about the money. Strategic partners and supporters are needed and you all need to be on the same page and have a clear goal, after that, I believe you can always work out the financials somehow. At the end of the day footy is a cheap game to play and no matter what, people need their sport. I've still met a lot of people in China who's businesses and financial situations are going OK, they see the recent updates as a chance to pursue certain things while others are more hesitant. Keeping up the footy no matter what happens is a good way of keeping a sense of optimism and letting people know its not all too hard, don't give up".
So where does Sawitsch see Australian football going in 2009 and 2010 in China? Can we reasonably expect growth at senior level - more players and more teams?
Watch this space, no confirmations yet, but World Expo is being held in Shanghai next year, as announced last year, there is still the chance of an AFL exhibition game being played in Shanghai as part of Australia's exhibit at the expo, it's in negotiation. This is a massive opportunity to show people what the game is and establish the game more in the Shanghai area. I think the next few years as far as player numbers and teams go, to be honest it might be slow growth, but as long as there is people having a kick and the existing teams are galvanising, it just takes a major event like the expo and some gradual recognition and government and corporate level to see it branch out into other areas. I do think that in five years the game will be in a better position in China than it is right now.