Odds for AFL exhibition in China improve
Monday, May 11 2009 @ 10:50 pm ACST
Contributed by: Brett Northey
Views: 2,141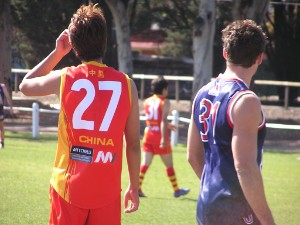 We've reported previously that the Australian Football League is keen to stage an exhibition match in Shanghai as part of the 2010 Expo. We've also reported the Federal Government is now supporting Aussie Rules as a potential export product.
These two factors seem to be coming together, with renewed reports that a match will go ahead. An article in the Herald Sun, Australian Rules Football to be played in China, quotes Australian Trade Minister Simon Crean, currently in China, as saying that "It is a great way to make Australian rules known in China," and "It's a great game, it's fast and exciting, but people need to see it first-hand". Writer Gerard McManus speculates that long term, the AFL may have its eye on selling TV rights the emerging economic superpower. The suggestion is that the game would feature Melbourne against Brisbane or new-boys the Gold Coast.
A lot more quotes and information can be read in AFL eyes Shanghai showcase, by Michael Sainsbury, including Crean stating, "Look at all the people. Anyone who watches a game of Aussie Rules football falls in love with it," and "This will be an expo that has 70 million people. If we can show the game played on their soil with their audience I think it would take off."
No word yet, but wouldn't it be tremendous to feature China versus Japan as the curtain raiser. That would give China two years to bring themselves up to Japan's level - difficult but possible if enough resources are committed.