Malaysian Auskick kids cross codes to win SEA Gaelic Champs
Sunday, May 24 2009 @ 05:47 pm ACST
Contributed by: Greg Catterall
Views: 4,474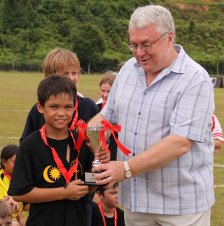 The boys and girls from the Malaysian Warrior Auskick program recently won the Gaelic football competition of the South East Asian Gaelic games, despite not having played the game before.
The games were run by the Orang Eire Gaelic team and held in Kuala Lumpur, Malaysia on May 9th. The Malaysian Warriors Auskick team beat the Malaysian Gaelic team in their first game, then drew with Singapore to make the final. In the final, the whole squad, aged from 6 to 11 and including boys and girls, played well as a team to win.
Due to relatively low numbers of children for both Auskick and Gaelic, the clubs have worked together to create more opportunities for games and in the process showing the benefit of team sports. The Warriors Auskick program aims to give Australian children the chance to continue Australian rules whilst abroad and encourages locals to play. Gaelic football involves similar skills to Aussie Rules and as shown by the results, the children can play both games, allowing them to enjoy team sports.