Country Snapshots
Wednesday, June 10 2009 @ 06:42 am ACST
Contributed by: Brett Northey
Views: 2,762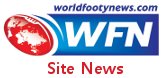 worldfootynews.com
has a new section called Country Snapshots available from the pulldown menu Countries. Over the coming months we will be adding a brief summary of the status of Australian football in each country that has had some form of involvement in the game.
To be a truly complete record would require pages of information per country and need to be constantly updated, so these snapshots are not intended to replace a Google search or a search of our news articles and links - there's nothing like tapping a query into the search facility at the top left of our website. Rather, they are intended as a quick look for basic information, especially for people new to the world of international Aussie Rules.
The first region completed is Africa. As always, let us know if there are any significant errors or omissions.