Preparing for the Carnaval - Team Brazil
Saturday, June 13 2009 @ 08:33 am ACST
Contributed by: Aaron Richard
Views: 4,003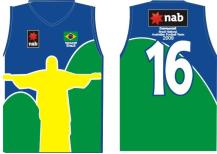 Australian Trade Commissioner for Brazil, Greg Wallis, is putting together the first Brazilian Aussie Rules team for the match against the Santiago Saints coming up next weekend.
When the Carnaval - Brazil's first Australian Rules team - take the pitch against Santiago on June 20, they'll be wearing a jumper designed by a cartoonist from the Adelaide Advertiser newspaper and include players from across six states of Brazil. The squad currently consists mainly of Australian expats, although there will be at least one local.
This has made for a challenge in getting the team together, as Wallis tells us, "Brazil is so big that players are from all over the country, not just Rio and Sao Paulo, so logistics is difficult. But more than that, there are actually very few Australians here. I've probably contacted most of them for this game. Its not like a US or European city where you might have thousands of ex-pat Aussies - here you can count them on one hand in most cities."
Regarding the future of the game in Brazil, Wallis says "The first game is really just a bit of fun for the guys here, but if it goes okay then who knows - could develop into something bigger."
"It would be a big step from this game against Chile to so some sort of local competition... Soccer is so dominant here that it would be a tough job to convince locals to start playing in the absence of a visible and continuous local competition."
"So I think that for the foreseeable future we'll just play these one off games when we can and have a bit of fun. But as long as I'm here I'm more than happy to be involved and if we really see a bigger interest then I'll be the first to help make a local competition happen."