Germany defeat Finland in First International Test for 2009
Sunday, June 21 2009 @ 10:53 am ACST
Contributed by: Aaron Richard
Views: 3,001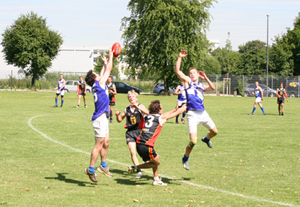 On Saturday 13th June, the all-local German Black Eagles had their first International for the season, taking on the Finland Icebreakers in Cologne, Germany.
Although the hosts proved too strong for the Icebreakers early, the second half saw a spirited comeback by the Finns, who were goal for goal with Germany in the third term and outscored them in the last quarter. The early-match lead proved an insurmountable target however, the Black Eagles running out 37-point winners.
Thanks to Luke McBride from the AFLG for the following report.
With blue skies overhead, both teams lined-up before the game as their respective National Anthems were played. After shaking hands, the game was on.
The all-German team exploded out of the blocks kicking a decisive 5 goals in the first quarter while keeping the Finns goalless. They then extended their lead by an extra 3 goals in the second. At half-time, the Ice Breakers looked all but broken.
Half-time score: Germany 7.8 (50) led Finland 0.1 (1).
That wasn't to be the case though. The Finns dug deep in the 3rd, equaling the Germans with 1 goal and 3 points, showing that they weren't done just yet.
The 4th quarter was all about pride, and the Finns showed plenty of it. They hadn't flown 1,500 km's to simply roll over and admit defeat. In a moral victory, the Finns took out the final leg, kicking 3 goals to Germany's 1, but unfortunately it wasn't enough to secure them a win.
Germany's next International Game will be against the Czech Lions in Mitteleschenbach, Germany on the 1st August, 2009.
Finland are to take on the West London Wildcats in Finland during September, shortly before the EU Cup on October 3.
Final score: Germany 9.14 (68) defeated Finland 4.7 (31).