Malaysian Under 18 side defeats Australian International School
Tuesday, August 11 2009 @ 07:34 am ACST
Contributed by: Graeme Carey
Views: 4,470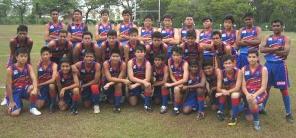 On 7th August, 1858 Melbourne Grammar played Scotch College in Richmond Park in what is generally regarded as the first official Australian football match ever played.
On 8th August, 2009, 151 years later, almost to the day, history was created when the under-18 St John's School Malaysian Warriors took on the Australian International School Malaysia and scored a meritorious victory, winning 17.6.108 to 5.6.36.
This will become the day every year that future Malaysian teams commemorate the first game of Australian Rules Football played, and won, by a team of indigenous Malaysians.
The brainchild of the visionary Peter Habel, the success of the game was a vindication of the efforts by the School and Coaches Mike D'Oliviero, Andy Lee, and Ben Pring to offer Australian Rules to Form 4 at St Johns.
The St John's lads, many of whom have rugby backgrounds, have been learning the game for just 10 weeks and this was their first competitive outing. They displayed great running and tackling pressure to force clearances and deliver the ball to their tall forwards. The defence was resilient and passing by hand and foot crisp and accurate. Whilst well beaten, kudos go to Chris Thorpe and his AISM team for putting in a brave performance despite having little preparation. The AISM does not have a strong football programme, probably because they have had no one to play – until now!
You can be sure however, that an Australian school is not going to be too keen on being beaten at the national game by a bunch of Malaysians and a return encounter is certain.
The Warriors' next outing will be in the Asian Junior Championships, where they are bound to get a stern test from the Jakarta Bulldogs as well as the Singapore and Hong Kong junior sides
The future of Australian Football in Asia lies in the development of Junior footy and Auskick levels. Giant strides have been taken in the past two years, with most clubs having active Auskick programs and Indonesia, Singapore, Hong Kong and Malaysia starting Under Age teams.
The most significant event has been the establishment of AFL Indonesia and it is hoped that in the near future that will translate into AFL South East Asia which will give the fledgling teams opportunities to play each other and hence give meaningful competition and opportunities to promote and grow the game.
From such little acorns mighty oaks grow.
For more information, see the Malaysian Warriors website.