Craig Senger Memorial Match - Swans pip Laos by 4 points
Tuesday, August 11 2009 @ 05:37 pm ACST
Contributed by: Graeme Carey
Views: 2,610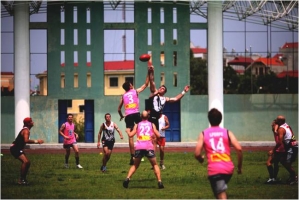 On a day where bigger issues overwhelmed the football, the Vietnam Swans defeated the Laos Elephants by 4 points in a important warm-up game for the upcoming Asian Championships in Kuala Lumpur.
Craig Senger had been a player with the Jakarta Bintangs Football Club and tragically lost his life in the recent Jakarta bombings of the JW Marriott and Ritz-Carlton Hotels.
Prior to the match, the Australian Ambassador, the Deputy / Minister Counsellor from the Indonesian Embassy and Dave Kainey ("Official Legend" of the Jakarta Bintangs and former Swans President) addressed all players and spectators. A minute's silence was observed.
After the match, players from both sides signed a miniature match day banner. A commemorative plaque was also unveiled. The plaque reads:
Vietnam Swans Vs Lao Elephants
An Aussie Rules Tribute Match to celebrate the lives of those who lost them on 17 July 2009 - including Craig Senger; Jakarta Bintang, colleague and friend.
Let them always be remembered. Hanoi, 8 August 2009
Both the plaque and the banner will be jointly presented by the Vietnam Swans and Lao Elephants to the Jakarta Bintangs when we next meet each other at the Asian Championships in Kuala Lumpur on 5 September 2009.
A raffle in support of the Craig Senger Indonesia Memorial Fund, set up by his wife and family to help deserving Indonesians, raised 23.9million Vietnamese Dong (AU$1,540).
The Vietnam Swans would like to thank all who contributed so generously in providing prizes and purchasing tickets in the raffle. Special mention to Shannon Leahy and Aidan Storer, both Swannies and Austrade Officials, for their outstanding work in making it happen.