The Heat repeat in the Asian Championships
Tuesday, September 08 2009 @ 03:37 pm ACST
Contributed by: Graeme Carey
Views: 2,782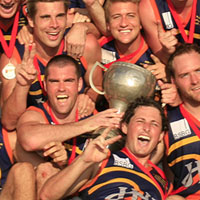 Dubai Heat last weekend won the Asian Championships in a repeat of 2008, defeating the Singapore Wombats in the Grand Final. The Heat trailed at half-time but superior fitness saw them overwhelm Singapore in the final stanza to score a well-deserved victory.
Third and fourth spots went to the Bali Geckoes and Hong Kong Dragons, who were defeated in the semi-finals by the Heat and Wombats repectively.
The pinnacle of the Asian Football season, the Asian Championships this year were held in Kuala Lumpur at the Selangor Polo Club on 5th September.
In the Juniors grade, the Jakarta Bulldogs also went back to back, asserting their superiority over the St Johns Malaysian Warriors, though the Malaysian boys' effort is to be highly commended as they took on far more experienced rivals and gave them strong competition.
Competing teams were Dubai Heat, Singapore Wombats, Bali Geckoes, Jakarta Bintangs, Thailand Tigers, Vietnam Swans, Lao Elephants, Hong Kong Dragons and China Reds as well as the hosts Malaysian Warriors
The Malaysian Warriors, celebrating their 10th year of existence, proved magnificent hosts and there was unanimous agreement amongst participants and spectators that this was the best-organized and best-run Asian Championships to date.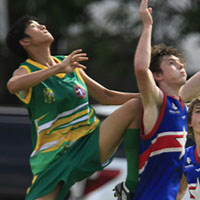 Photos, including the picture at left of a "Jezza" moment from a St Johns under 18s player over his Jakarta Bulldog opponent, courtesy of Mark Stennett. For more information visit MalaysianWarriors.com, or the Asian Australian Football Council.