Goannas make it four straight in Japan AFL
Sunday, December 13 2009 @ 07:10 pm ACDT
Contributed by: Roy Obal
Views: 3,245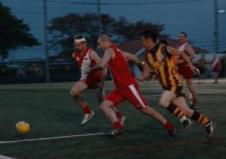 On the 22nd of November under lights on a very cold and wet evening, the Tokyo Goannas won their fourth consecutive Japan AFL Premiership, a remarkable achievement in a rapidly improving competition. The Goannas defeated the Eastern Hawks by 38 points in a dominant display of hard-running and relentless ball-pressure.
The Goannas and the Hawks earned their grand final appearance with tough victories in the semi-finals against the Senshu Powers and the Nagoya Redbacks respectively.
The Grand Final kicked off at a desperate pace as both teams battled for superiority in the centre. In difficult conditions, it was always a case of getting the ball forward at any cost, which the Goannas did time and again. Although they had the edge in the first quarter, a last-second goal to the Hawks ensured they trailed the Goannas by only 6 points at quarter time.
It was in the second term that the Goannas set up their victory, kicking four goals while their stingy defence kept the Hawks goalless. It was more of the same in the third as Tokyo closed out the game, piling on 5 majors and holding the Hawks to one solitary behind.
With a 10 goal lead at the three-quarter time, the game was effectively over and the Goannas took their foot off the pedal. The Hawks continued to press, however, and kicked four consecutive goals before Sullivan kicked the game's last, and his sixth, goal.
Tokyo Goannas 13.10 (88)
Eastern Hawks 6.14 (50)