"Indo Footy Stars" kicking goals for Indonesians in Australia
Friday, January 22 2010 @ 07:53 am ACDT
Contributed by: Aaron Richard
Views: 5,257

Back in 2004 and 2005, teams from some of Melbourne's multicultural communities came together to take part in the Multicultural Cup, an Australian rules football lightning tournament organised by Aussie Rules International.
After a hiatus of four years, the tournament is back in 2010, renamed the Harmony Cup, featuring some new sides and planned for March 21st. Teams from the Greek, Italian and Lebanese communities are back onboard, along with Team Africa and Team Asia from the 2008 International Cup. Also planning to attend with a few players with International Cup are India, and newcomers Indonesia and Albania.
Team Indonesia - branding themselves the "Indo Footy Stars" - are being coordinated by Fawwaz Sungkar, who took some time to talk with WFN about the team's preparations.
Fawwaz grew up in Melbourne, and has followed the AFL since he was a child, although his footballing experience has thus far been limited to playing footy at school. He is very excited about the opportunity presented by the Harmony Cup, saying "this is something different, this is the first time that Indonesians have been able to be part of a major tournament like this."
Trials for the side have been continuing in both Melbourne and Sydney, with a group consisting of around 60% local Indonesians and 40% international students from Indonesia. Training sessions are both for sharpening the skills of those who've grown up in Australia as well as sharing the skills with players who are new to the sport. As Fawwaz says, "our slogan for the group has been 'Get fit for summer, try something new'."
Fawwaz feels the sessions so far have been very positive, stating "We've got around 30 guys at the trials each Sunday in Coburg, from which we're aiming to pick 18 players for the tournament. We are also running trials in Sydney and we'll pick around 10 players from that group."
To make the selection from the NSW squad, Fawwaz will be heading up to Sydney in early February with head coach Shady Nagib, a fellow local Indonesian who has played footy for the Coburg Cougars, a feeder club for the Northcote Park Cougars in the Melbourne's Northern Football League.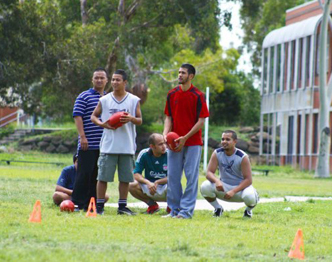 Although the majority of the playing group don't have extensive experience playing Aussie Rules at a club level, Fawwaz has been impressed by the skills shown. "I was a bit surprised, we've got a lot of local Indonesians and some of the internationals who have got a lot of natural ability... When people think of South-East Asians, they tend of think or more smaller guys, but we've got some guys who really have some skill, including some who can play in key positions."
The local Indonesian community has been supportive of the team so far. Fawwaz says, "We've got some interest from local Indonesian businesses for sponsorship. We're offering different levels of sponsorship, for the jersey and so on, and we're hoping to have that finalised by the end of the month."
As for the future of the Indo Footy Stars after the Harmony Cup, Fawwaz is optimistic that the team will stay together and look at more regular games. In particular, the Southern Dragons, a club based on the South-East Asian community that grew from the Vietnamese team at the Multicultural Cups and has now grown to field three senior sides every weekend in Melbourne's Southern FL, have provided some inspiration.
"I'd definitely hope we can keep the group together. We'll see what happens after the Harmony Cup, maybe look at what the Southern Dragons did and create an actual club... I've also been doing some research on the internet and I'd also like to get in touch with the clubs in Indonesia like the Jakarta Bintangs, it'd be good to get as many Indonesians involved as possible."
The Indo Footy Stars can be contacted via their Facebook group. More information about the Harmony Cup is available from Aussie Rules International.