Croatian Local Comp expands with Velika Gorica Bombers
Wednesday, February 24 2010 @ 08:55 am ACDT
Contributed by: Aaron Richard
Views: 2,958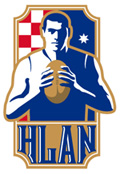 The Croatian Association of Australian Football will shortly kick off its 2010 season, with local clubs Zagreb Hawks and Agram Power joined by new side the Velika Gorica Bombers.
Kolja Koracak from the CAAF says that after a draft is held in early March, the season will see each team play each other three times, with the team with the best record declared premiers. The inaugural Croatian Cup, a one-day 3-team tournament, will be held in autumn.
The Croatian national team has made some strong showings at European tournaments in the past few years, the high points being a runners-up at the 2008 EU Cup in Prague and hosting the 2009 EU Cup in the town of Samobor.
In 2010 the Knights will again be taking to the road, with both the 16-a-side European Championships in August and 9-a-side EU Cup in October booked into the calendar.
A new website has been launched at footycroatia.com where all news and info about Croatian footy will be found in future. A YouTube video from the Knights' preseason training is available here.