Euro snapshots complete
Wednesday, March 10 2010 @ 08:37 pm ACDT
Contributed by: Brett Northey
Views: 2,550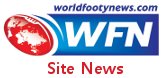 WFN has now completed its Country Snapshots section for
Europe
.
Other completed regions are
Africa
,
Oceania
, the
Middle East
and
North, Central and South America
. They are available from the pulldown menu above titled Countries.
Over the coming months we hope to finish the last region - Asia.
As always, let us know if there are any significant errors or omissions. We do realise that the Census data (2004) is well out of date, and there is some more recent data available. We'll hopefully address that at the end of the year.