Biggest-ever Bali Masters 9s back for 2010
Saturday, April 24 2010 @ 09:58 am ACST
Contributed by: Aaron Richard
Views: 4,043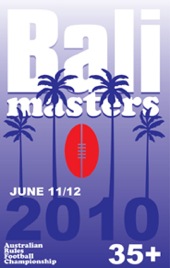 The Bali Geckos will this June be hosting the 2010 Bali Masters 9s Australian Rules Football Championship. Held at the Canggu Club, Bali, the event is looking set to be Asia's biggest ever Aussie Rules event. 11 teams have already registered for the tournament, including teams from across Australia, as well as East Timor and Dubai. A number of other teams are keen to join, with a projected 16 teams from six countries expected to play in this year's tournament.
The event sees teams play following specially modified 9-a-side rules, with the inclusion that all players must be over 35 years of age. The event is endorsed by AFL Masters, who are the governing body for Masters rules football in Australia. With the large number of teams attending games will be played over two days, with the grand final being played under lights.
The Bali Geckos have a history of setting the standard in Asian football. The club's uniquely conceived Bali 9s increased the professionalism of Aussie Rules tournaments in Asia. At the time the Bali 9s were the biggest footy events on the continent, even attracting the then Australian Prime Minister John Howard to attend.
The 2010 Bali Masters 9s Australian Rules Football Championship will be held at the Canggu Club Friday June 11 and Saturday June 12. More information can be found at www.baligeckos.org or by emailing ted@balinines.com.