Croatian Knights hoping to bring 9-a-side Success to Full Field Footy
Monday, July 12 2010 @ 05:23 pm ACST
Contributed by: Aaron Richard
Views: 5,109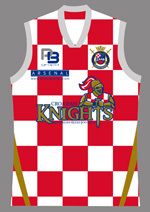 The Croatian Knights have been an up-and-coming power of European footy in recent years, taking the silver on debut at the 9-a-side 2008 EU Cup in Hamburg, and then picking up the bronze at the 2009 event in front of a home crowd in Samobor, near the Croatian capital Zagreb.
This year sees the Knights step up to playing full-field footy for the first time, in the inaugural 16-a-side European Championships being held in Denmark and Sweden next month.
Croatian footy pioneer Kolja Koracak is managing the squad, which will consist of 20 players. "We selected from the pool of 32 players. At the end some got injured, some couldn't come because of work and other reasons, and so our list was easy to put together. We'll be taking 20 players to Sweden and Denmark, including 5 rookies." All three domestic clubs, the Zagreb Hawks, Agram Power and Velika Gorica Bombers, are represented in the national team.
Footy in Croatia has been helped along by the support of the AFL's Hawthorn Football Club, a fact reflected in the nation's first club being dubbed the Zagreb Hawks. The Hawthorn connection is also evident in Kolja's assessment of his team's stars, saying "Tomislav Cvetko is Buddy Franklin, Josip Kravar is Sam Mitchell, and Davor Deranja is Luke Hodge. 'nough said!"
At 44 years of age, Ante Loncar was set to be the squad's oldest member, but had to pull out. His 18 year old son Adam Loncar will be there however, being the youngest representative for the Knights in 2010. All squad members are Croatian citizens and grew up in Croatia, although Adam Loncar and Toni Grguric were born in Australia.
Koracak says the squad will be camping out in Denmark, with a lack of sponsors leaving a very tight travel budget. "The Croatian national team will sleep in tents in camp, because of lack of support from the country and beyond, even though this week we got so much press space after winning the tournament in Italy!"
With a reputation to uphold as a strong contender on the European stage, and a long history of Croatian champions in the AFL, the Knights will be eager to prove they can match it with all comers.
| No. | Name | D.O.B. | Club |
| --- | --- | --- | --- |
| 3 | Igor Svoboda | 17.04.1984&nbsp&nbsp&nbsp | Zagreb Hawks |
| 6 | Ante Kovacevic | 11.02.1982 | Agram Power |
| 7 | Marko Belic | 28.10.1984 | Zagreb Hawks |
| 8 | Ivan Kusen | 05.07.1986 | Velika Gorica Bombers |
| 9 | Ivan Molnar | | Agram Power |
| 11 | Tomislav Tonsetic | 02.08.1984 | Agram Power |
| 13 | Josip Kravar | 09.10.1985 | Zagreb Hawks |
| 17 | Kreso Franic | 27.12.1984 | Velika Gorica Bombers |
| 21 | Luka Velican | 17.08.1984 | Zagreb Hawks |
| 24 | Fran Tonkovic | 02.04.1987 | Zagreb Hawks |
| 27 | Adam Loncar | 27.02.1992 | Agram Power |
| 34 | Davor Deranja | 05.02.1986 | Velika Gorica Bombers |
| 43 | Milijan Mamic | 06.08.1985 | Velika Gorica Bombers |
| 51 | Kolja Koracak | 05.04.1974 | Zagreb Hawks |
| 55 | Tomislav Cvetko | 19.12.1984 | Agram Power |
| 88 | Zvonimir Klenovic | 22.04.1982 | Velika Gorica Bombers |
| 32 | Toni Grguric | 16.06.1972 | Zagreb Hawks |
| 2 | Matija Mamic | 31.05.1983 | Velika Gorica Bombers |
| 14 | Matija Glavinic Pecotic | 14.03.1987 | Velika Gorica Bombers |
| 10 | Luka Cudina | 22.02.1991 | Agram Power |
Coach: Josip Kravar
Manager: Kolja Koracak