Germany ready to take on Europe's best
Tuesday, July 27 2010 @ 05:44 pm ACST
Contributed by: Aaron Richard
Views: 6,681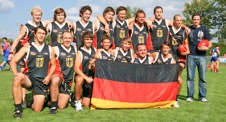 The Australian Football League Germany has released its squad for the 2010 European Championships, which kick off in Denmark and Sweden this weekend.
It will be a new-look Black Eagles squad taking the park, with core players from the Rheinland Lions unavailable due to time and financial constraints. AFLG clubs Munich, Frankfurt and Berlin have five representatives each, including national captain Tim Horenburg from the Munich Roos.
Stuttgart, Hamburg, the Rheinland Lions and AFLG expansion club Nürnberg have contributed a further one player each.
Rounding out the 22-man squad are three Germans currently playing in Sweden. The first is AFL Sweden president Jörg Pareigis, who first discovered Australian rules after moving to Malmö, Sweden and taking Swedish language lessons. One of Pareigis' classmates in the Swedish course was Ricky Nolan, past coach of the Port Malmö Maulers and son of North Melbourne's legendary 'Galloping Gasometer' Mick Nolan. He is joined by Oliver Seiberlich, a German-Swede from the Göteborg Beserkers who only narrowly missed selection in the Swedish Elks squad.
The third Swedish-based German in the squad is man-mountain Mats Wurmbach from Stockholm local league club Solna. At 208cm and 120kg, Wurmbach was a crowd favourite at the IC08 in Melbourne where he played for Sweden, and he will be an imposing presence for the Black Eagles.
German team manager Benno Bock says experienced hands Marvin Bense, Kevin Hopf, Martin Schmoll, Michael Schuard and captain Tim Horenburg will be the key players to watch, although there are some young players on the rise in Constantin Hoeher, Till Rautenberg and Johannes Mast.
The Black Eagles have not yet taken on the might of Great Britain or Ireland, and were soundly defeated by Denmark when the two last met. However, with some good results at the EU Cup and test wins over Sweden and Finland in the past few years, everyone will be eager to see if Germany is ready to take the next step and become a power of European footy.
| #&nbsp&nbsp&nbsp | Name | Club |
| --- | --- | --- |
| 1 | Tim Horenburg (c) | Munich Kangaroos |
| 2 | Constantin Hoeher | Berlin Crocodiles |
| 3 | Fabian Lindner | Berlin Crocodiles |
| 4 | Johannes Mast | Stuttgart Emus |
| 5 | Jörg Pareigis | Karlstad Eagles (Sweden) |
| 6 | Just W. Beyer | Munich Kangaroos |
| 7 | Kevin Hopf | Frankfurt Redbacks |
| 8 | Manuel Lomb | Frankfurt Redbacks |
| 9 | Martin Krey | Frankfurt Redbacks |
| 10 | Martin Schmoll | Munich Kangaroos |
| 11 | Marvin Bense | Berlin Crocodiles |
| 12 | Mats Wurmbach | Solna Axemen (Sweden) |
| 13 | Michael Schuardt | Munich Kangaroos |
| 14 | Momme Volquardsen&nbsp&nbsp | Hamburg Dockers |
| 15 | Niko Schulze | Nürnberg |
| 16 | Oliver Seiberlich | Göteborg Beserkers (Sweden) |
| 17 | Patrick Martus | Frankfurt Redbacks |
| 18 | Robert Macher | Munich Kangaroos |
| 19 | Steffen Risse | Berlin Crocodiles |
| 20 | Till Rautenberg | Berlin Crocodiles |
| 21 | Tim Paul Bade | Rheinland Lions |
| 22 | Tobias Weinheimer | Frankfurt Redbacks |
Coach: Troy Pedder (Berlin Crocodiles)
Manager: Benno Bock (Berlin Crocodiles)