Host Nations secure top 4 finish in EC2010
Wednesday, August 04 2010 @ 08:21 pm ACST
Contributed by: Aaron Richard
Views: 3,377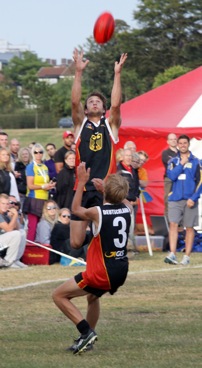 After the second round of matches in the 2010 European Championship in Australian Football, host nations Denmark and Sweden have ensured they will qualify for the top four.
Sweden ensured qualification after recording their second win over a spirited German side in front of around 500 people in Malmö: Sweden 8.14 (62) to Germany 4.2 (26). In the first half the Germans offered stiff resistance against the home team and were only a point down at half time. However, a lack of interchange players made it difficult for Germany, and allowed the Swedes to assert control in the second half to run away winners.
In the day's earlier match, Ireland comfortably defeated an under resourced Croatia side: Ireland 20.21 (141) to Croatia 1.1 (7). The Croatians must be commended for their commitment and refusal to give up despite the scoreboard, but Ireland's clinical efficiency and work rate showed exactly why they are the tournament favourites.
Across the Öresund strait in Farum, Denmark, Great Britain defeated Iceland to ensure their passage to the top four. Iceland won praise for their competitive spirit, but in the end Great Britain's experienced playing squad prevailed to earn them an important win. Great Britain 11.20 (86) defeated Iceland 4.12 (36)
However, the team that impressed most was co-host Denmark, who defeated Nordic neighbours Finland. After a shaky start, Finland regrouped and recovered well, but the nature of Denmark's win means many are now labelling them a real chance to take the gold. Denmark 14.20 (104) defeated Finland 2.1 (13)
Images courtesy of Morten Christensen.
Yesterday's results pave the way for some exciting showdowns in the next round of matches on Thursday 5th August, which will determine each group's final standings and thus who will play off for which position on Saturday.
In Malmö, Sweden and Ireland will play off against one another to decide which team will win top spot in their group and have the chance to play off for gold on Saturday, with the loser playing for bronze.
Meanwhile, Denmark and the UK will have a similar showdown in Copenhagen in their group, which will also effectively be a semi final. In the day's other matches, Croatia will play Germany while Iceland play Finland, with all four nations hopeful of recording their first win.