Shanghai to host Asian Championships
Thursday, October 07 2010 @ 07:45 pm ACDT
Contributed by: Ash Nugent
Views: 4,916

The annual Asian Championships of Australian Football will be held in Shanghai on Saturday week, with an encouraging twelve teams to take part, a two-team increase on the previous year's event. All of last year's teams will be present, although Bali and Jakarta are consolidated as Indonesia. Joining them are the Japan Goannas, Macau Lightning and the Asian Barbarians.
Dubai Heat, aiming to win their third consecutive title, are the hot favourites. They're taking the tournament very seriously, withdrawing from the upcoming AFL Middle East season, apparently in an effort to focus on the "greater prize". This is a big statement considering the Heat are reigning AFL ME Premiers.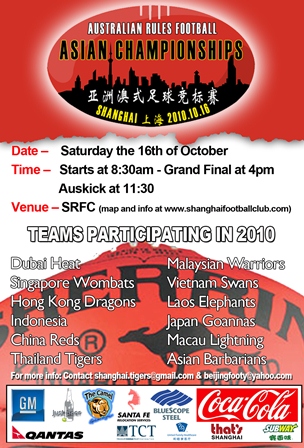 The Asian Championships are now in their eleventh year, and have grown to be the most important event on Asia's Australian Football calendar. To date only four teams have won the event; Jakarta, Singapore, Hong Kong and Dubai.
Even if the Heat fail in their three-peat attempt, it will require a very strong effort to see a first-time winner of the tournament. Singapore and Hong Kong both finished top four at last year's tournament and Hong Kong especially have been in impressive form in 2010, winning the China Cup, Manila Cup and Pearl River Delta Tri Series.
First time competitors the Barbarians are the unknown of the tournament. Their squad will be comprised of footballers who want to be part of the Championships, but who aren't aligned with a competing club. Both playing and off field positions are still available. If you're interested in being involved, contact one of the editors at World Footy News who will put you in contact with those coordinating the team.
The Asian Championships begin at 8.30am on 16 October 2010 at the Shanghai Rugby Football Club, with the Grand Final to be held at 4pm. Auskick sessions will be held at 11.30am. It's the beginning of a big month for Australian Football in Shanghai; the city will also play host to an exhibition match between AFL clubs Melbourne and Brisbane.
Competing teams
(Asian Champions)
Dubai Heat
2009, 2010
Singapore Wombats
2001, 2005, 2006
Hong Kong
2003, 2004, 2007
Indonesia
China Reds
Thailand Tigers
Malaysian Warriors
Vietnam Swans
Laos Elephants
Japan Goannas
Macau Lightning
Asian Barbarians