Japan's next gen show their potential
Sunday, October 31 2010 @ 09:38 am ACDT
Contributed by: Brett Northey
Views: 2,697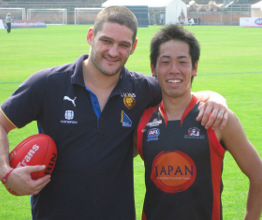 Two weeks ago the Brisbane Lions were defeated by the Melbourne Demons in the AFL clash in Shanghai for the Kaspersky Cup - see Jurrah lights up China match. The curtain raiser, also at Jiangwan Stadium, saw a Japanese Under 21 side take on China in a 9-a-side match. It was a great opportunity for the Japanese to give their younger players a taste of travel for the Samurai, whilst giving AFL China a chance to begin building a national squad.
Even though it was a developmental list it was not surprising that Japan ran away with the match. Wingman Ohashi provided the opening goal, and Samurais midfielders led by Tada, Nakamura, and Ichinose dominated the centre. Centre half forward Ken Sato, who spent 6 weeks at Box Hill North in Victoria as a scholarship player this year, was unstoppable ending up with 8 marks and 3 goals. Hiroki Ichinose also added 3 goals to his superb with 20 disposals. For China the highlight must have been the third quarter goal to Shao Lei.
After the game a small presentation was held between both teams by exchanging footballs. The Brisbane Lions' Brendan Fevola (pictured above) came on to the ground to add some fun, having some kicks with the Samurais boys. The boys were reportedly extremely excited to actually see the AFL star.
Comment From Japan Samurais Coach Dan Jenkins:
Extremely pleased with how well our boys gelled and executed our game plan. I asked the boys for constant motion while they were out on the field and I was impressed with their intensity, especially given some of them had played the equivalent of two full games of football the previous day.
Having proved they could mix it with the big boys the day before, Ken Sato and Masaya Nakamura stood out as a cut above. Ken marked virtually everything that came his way and Masa was outstanding around the stoppages. Hiroki Ichinose had a stellar game and captain Hayata "Bob" Ono set the tone for toughness and attack on the football.
While those players were the standouts, all 13 Samurais made a solid contribution and should come away from the weekend with a lot of confidence.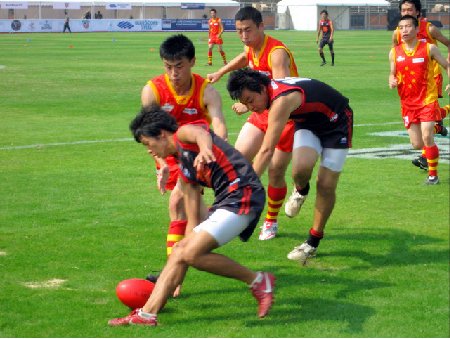 Thought China fought the game out with a lot of spirit and determination. Their tackling and the physical side of their game in particular were strong and despite the one-sided scoreline our lads had to work hard to win the footy.
A bit disappointing that all of the boys weren't able to experience the excitement of playing in front of a bigger crowd (Ed. the curtain raiser was played quite early, something that unfortunately happens to all teams before AFL matches, even in Australia), but hopefully that's something they'll be able to do sometime down the track.
Overall, I think the benefits of playing regular football against experienced opposition in the JAFL Top League and the JAFL scholarship program in accelerating the development of talented individuals were apparent. The hitout was great for our lads' development as a unit and I'm looking forward to the bulk of this team forming an integral part of our squad for the International Cup next year.
Thanks to Andrew and the Chinese boys for the game. It was a pleasure to be part of and hopefully we can return the favour and host you over in Japan someday.
Comment From Andrew Sawitsch / AFL China:
Great day and full credit to both teams for making it possible.
We realise we have a long way to go with our local players, but we think we are moving in the right direction. From the start, we were barely interested in the results or scoreline, the curtain raiser, just prior to an AFL exhibition match, was about giving some of our young and developing players across Asia a taste of what it means to play at the competitive level. We will continue to expose our Chinese boys to the game through domestic league matches in Beijing and Shanghai, and regular training and hope to field a competitive team in a lower division of next year's International Cup.
Peter Apps, veteran of Japanese footy, advised some encouraging words to Mic Mittasch and myself soon after the game which seemed to put it all in perspective for us. Close to 20 years ago is when Japan first had an AFL exhibition match, and there has been consistent participation since, his opinion is that the Chinese team are of a better standard than Japan AFL's early years, so it's really just a matter of time, and persistence. Some really encouraging performances by some players, particularly those who have only been playing for a matter of weeks. Hopefully the never give up attitude of the players becomes a hallmark of the China Red Demons in the future.
Personally, I'm very proud and very happy that a first Japan v China match in Australian Football has gone ahead, it did have its difficulties, and it was at the height of some diplomatic tensions between the two countries, but to have all the players stand arm in arm, after the match, united by sport and camaraderie, made it all worthwhile.
A real highlight of the weekend too was to have all the Chinese and Japanese curtain raiser players come together, along with other various nationalities, backgrounds and regions, to form the Asian Barbarians and play in the Asian Championships the day before. This really was great promotion for why our sport is so great and the Barbarians also really showed a bit on the field. The win against Macau in their final game really pleased all onlookers and provided even more experience to our new players.
Comment From Andrew Loechel / China Red Demons Coach:
At one stage, I thought we may not even be able to field a team for the game, so I was quite pleased with the fact that we ended up with enough Chinese players to play on both the Saturday (Ed. Barbarians side at the Asian Champs) and Sunday.
I realise (Japan) would probably preferred to have faced some tougher opposition, but our goal from here is to continue developing football in China, and to introduce the game to more people. If we can get regular participation from the local community, we believe we will soon get to the stage where we can be more competitive.
The most pleasing thing for us was that we had three boys who played their first ever game of Football in that match, and all three of them have expressed their desire to continue learning the game.
We will now take a break over the winter, and will hope to resume again once the weather warms up again.
Thanks so much for the opportunity to bring the two countries together for this game, and we certainly hope to do it again some time in the future.

Thanks to Hideki Miyasaka, AFL Japan and AFL China for their assistance with this report.


China Red Demons 0.0 0.1 1.2 1.2 (8)
Japan Samurais U/21 4.3 9.4 11.7 15.15 (105)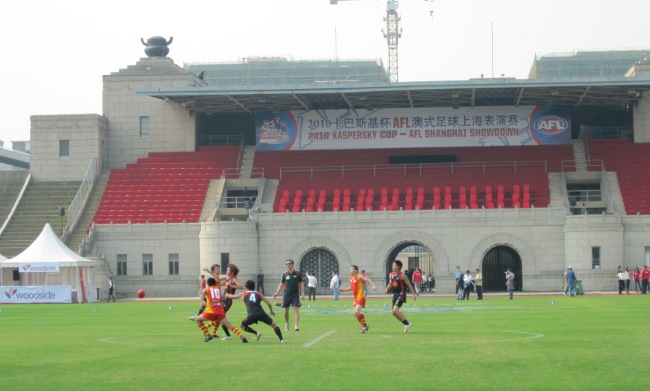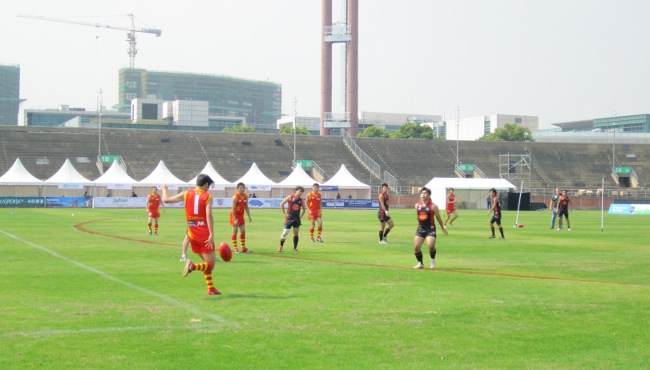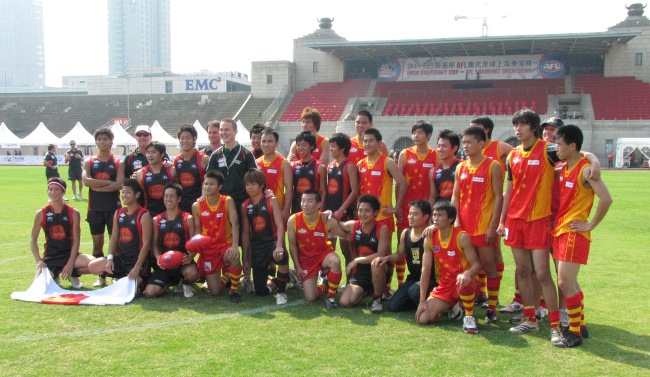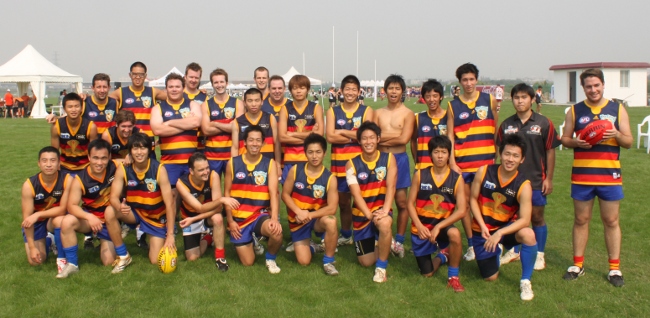 The Asian Barbarians side that took place in the Asian Championships on the Saturday.