Football seeds in Peru's sacred valley
Thursday, December 23 2010 @ 07:38 am ACDT
Contributed by: Brett Northey
Views: 4,290

Over the last decade Australian football has taken big strides in laying down some roots internationally. Many of those started off as tiny projects to use footy to bring some fun to poor communities; some such projects remain at that scale and whilst never likely to make big headlines are great initiatives as they are. One current program is being run by expat Aussie Simon Corcoran in a remote area of Peru.
worldfootynews.com had a chat to Simon about the people and the footy there and where his dreams would see it all go.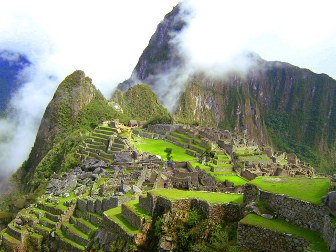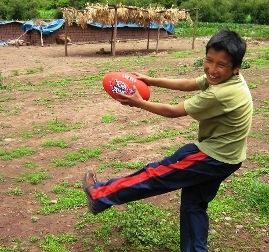 Simon is original from South Australia, but now calls Peru home where he has lived for more than six years and is married to a Peruvian, with a 9 year old daughter. His tourism company is called Kutimunki and he is based near the small town of Urubamba. The area is known as the Sacred Valley of the Incas and sits at a lofty 2800m altitude in the Southern Andes Mountains of Peru, one hour drive from Cusco. It certainly dwarfs Mount Lofty in Simon's original home town of Adelaide, which stands at a less "imposing" 727m.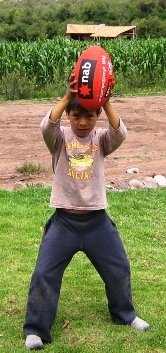 Simon describes the area as small indigenous farming communities, on a tourist route to the famous Machu Picchu, which experiences a wet season from December to April and a cool temperate climate. For more info see Las Semillas del Valle Sagrado.
By Simon's reckoning the local population is 90% mestizo (indigenous x Spanish bloodline), with "many people living as they have done for 500+ years, 50%+ illiteracy rate. Statistically the people are defined as poor". The area is predominantly traditional agriculture and tourism economies.
So what got him started teaching locals the sport? He's a Glenelg (SANFL) and Adelaide Crows (AFL) fan, following the Bays since the 1973 Grand Final at age four. "My goal is through AFL to highlight both the exchange and importance of cultures, assist with the development of self esteem and teamwork through participation in sport and assist development of indigenous communities through fundraising in Australian football clubs". Helping him get started in 2009 were 10 Auskick footies courtesy of the AFL. He also featured in an article on the Crows' website.
The Quechuan kids speak Spanish and the indigenous language Quechua, while "some also learn English at school". With tourism prevalent in the area there are also children from Italy, Germany, USA, France, Spain etc.
Simon hopes to expand his program in 2011. "In early January myself and a local PE teacher are joining forces to obtain permission from the local council for use of the stadium to hold some introductory school holiday clinics with a view towards weekly training sessions when the kids go back to school in March. My goal is to form at least two teams and actually get a competitive game scheduled".
It's a feel good story that deserves support, but as footy evangelists we wonder if it could be the seed that expands the sport further in Peru, to join the fledgling teams in Chile, Argentina and Brazil. "The city of Cusco is only one hour away and has a population of over 500000. The capital Lima has a population of 10 million and Peru is now over 30 million".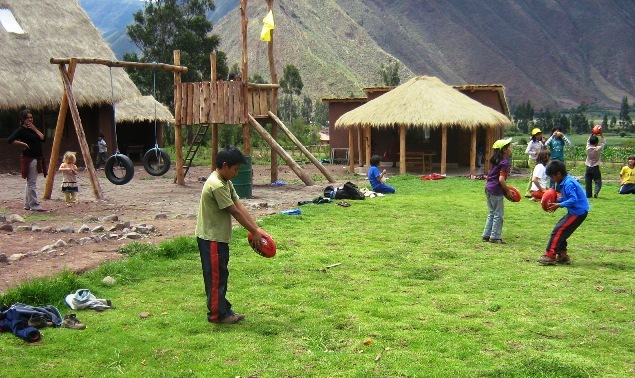 In the short term the program's greatest requirement is one common to many footy start-ups. "Our most important need to literally get the ball rolling are footballs – perhaps second hand ones donated from Aussie clubs. We would look to develop a program from here and if successful look to introduce the training program to schools in different regions of Peru. The biggest issue faced is the football field itself – there aren't any. We are looking into ways to adapt the game to the size of a soccer pitch".
We've pointed Simon at the numerous 9-a-side and Rec footy resources now on the web. In fact he hadn't really been aware of the international growth of the game, so hopefully he'll now find a growing community to inspire him.
Like many of these programs that start out small, it isn't immediately obvious how the jump could be made to a larger program, but as we've seen in the past, sometimes it only takes one or two of the students to become fans and perhaps take the game to the "big smoke" one day.
So, is it a crazy dream to think of Peru playing internationals against Chile or Argentina in 10 or 20 years? "Certainly is a crazy dream but I like to dream and believe it could become a reality". Baby steps for now? "Yes".
The images above are courtesy of Simon and his travel company Kutimunki. Anyone wishing to help with his footy program (cash, footballs, equipment, time) or holiday in the area are encouraged to contact him through that site or worldfootynews.com.