East Timor out of IC, but domestic footy growing
Thursday, February 17 2011 @ 04:50 pm ACDT
Contributed by: Aaron Richard
Views: 4,201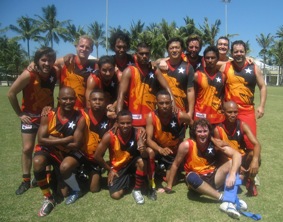 The AFL Timor-Leste have decided to withdraw from the running for the 2011 International Cup, and will instead focus on building their domestic competition with a view to making their IC debut in 2014.
Since beginning in 2007, the AFL Timor-Leste has grown to an 11-a-side league of six teams in 2011, with the playing base now composed of over 80% local Timorese. In conjunction with senior footy, the AFLTL has been conducting Auskick clinics, and the Timor Crocs national team has made appearances at tournaments in Bali and Darwin.
The league recently received some assistance from Australia, with the Brisbane Lions sending a full set of their 2010 white away jumpers over to East Timor. Association representative and avid Lions supporter Anthony Draper said "I heard the jumpers were no longer being used and so I asked them if they could help us out, they were fantastic and sent us an entire playing kit plus some balls."
The Australian Defence Force connection with the league remains through a combined Australian Army and Timorese Army team competing as "the Tropics". Joining them in the AFLTL are the East Dili Eels, Britto Academia, Toll, RAFA Lions and Romit.
Rather than a home and away fixture, the AFLTL conduct a lightning tournament every third Sunday, with the premiers drawn from the top team on aggregate over the season. So far, the East Dili Eels and the Tropics have won one premiership apiece, the Eels triumphing in 2009 and the Tropics in 2010. National Team and East Dili Eels coach Tom Dyer describes it as "fast, scrappy footy, and is getting more and more popular."
Some of the other annual events of the league's calendar include an annual match on ANZAC Day between the Timor Crocs and the Australian Army, and the Bali 9s and Bali Masters' tournaments.
The Timor Crocs' biggest international rivals so far are the Bali Geckoes, against whom the Crocs have competed for the Crikey Cup in Darwin in 2009, and then in Bali in 2010. AFLTL stalwart Luke Gosling is currently working on securing funds to bring the Timor Crocs back to Darwin in 2011, saying "we need some sponsorship to get a team over to Darwin this year, then we could look at it for a stepping stone towards the Interntional Cup in 2014. Any thoughts on connections to get Airnorth on board or another sponsor to get behind the Timor Crocs would be appreciated."