Indo Footy Stars working to help Indonesia debut at International Cup
Tuesday, February 22 2011 @ 12:57 pm ACDT
Contributed by: Aaron Richard
Views: 2,816


On the list of teams hoping to make their International Cup debut in 2011 are Indonesia, planning to field a squad composed both of from players from Indonesia as well as Indonesians resident in Australia. AFL Indonesia Development Officer Lee Van Gils is currently recruiting Indonesian nationals through the West Java league coordinated by the Jakarta Bintangs, with current plans to bring at least 12 local players across from Indonesia, possibly more if the necessary funding can be secured.
The Australian-based contingent are being organised by the Indo Footy Stars, who last year made their debut as Team Indonesia at Aussie Rules International's Harmony Cup, and who are currently preparing for another tilt against other Australian Multicultural community teams at the 2011 HC, this year to be held on March 21st at Collingwood's spiritual home Victoria Park.
In 2010 the Indo Footy Stars and the Harmony Cup were managed by Fawwaz Sungkar, but with Sungkar currently traveling in Indonesia, Ebby Irfandi has taken over the role of coordinating the team in Melbourne.
"Since last year, we've gotten the boys back together for the Harmony Cup and are looking for sponsors and so on. Last year was their first appearance and most of the guys didn't have so much experience, this time they'll have a better idea of playing together," says Irfandi.
"Shady Nagib will be coaching the team, he's been organising regular training sessions in Melbourne. The maximum squad size for the Harmony Cup is 25, last year we had to work to get that many, but this year we've got lots more interested, more than 30 at this point. Some of these guys we're saying if they miss out on the Harmony Cup team, there'll still be a chance to play at the AFL's International Cup."
"Again as last year, we've got some players coming down from Sydney for the Harmony Cup, and we hope they'll be able to also help out at the International Cup as it's being played in two cities this year."
The local-based players in the Harmony Cup squad are a mix of second-generation Indonesian-Australians and Indonesian students currently residing in Australia for tertiary studies. Irfandi says the students have mainly been recruited through their connections with the Indonesian Students Soccer League. "We had some of ISSL guys play with us last year, some will be back, although some of them found the physical nature of the game a bit daunting."
Regarding the International Cup squad, assuming that around 12 players come across from Indonesia, the rest will need to be drawn from the Australian Indonesian community. Irfandi says this may need some allowances from the AFL in terms of eligibility of players, but team management is going to be up front with the information.
"We're taking the details of anyone who's interested, including whether they were born in Indonesia, their age, whether they've lived there, be as honest as we can with it, then take this to the AFL and say this is what we've got. We hope that if their aim is to spread the game, they can make some allowances to get a new team into the competition."
"The way I see it, getting guys to try something in a new country and bring it with them when they go home, that's the best way to spread something like this. I saw a guy from Indonesia on the Jakarta Bintangs' Facebook page, he'd played footy in Melbourne and when he moved back to Jakarta he was looking to keep playing."
BELOW: The Indo Footy Stars warm up before the 2010 Harmony Cup held at Whitten Oval, photo courtesy of Indo Footy Stars.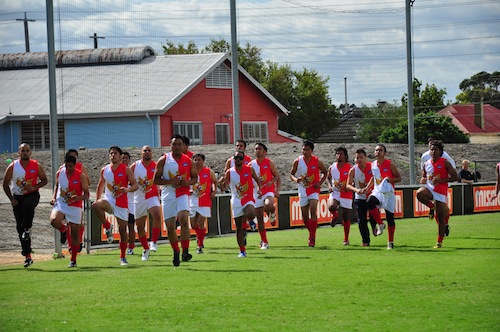 For more information about the Indonesia team at the Harmony Cup and the Australian-based contingent for the International Cup, the Indo Footy Stars can be contacted via their Facebook page.