Big night for AFL Fiji
Wednesday, March 16 2011 @ 11:45 pm ACDT
Contributed by: Brett Northey
Views: 7,669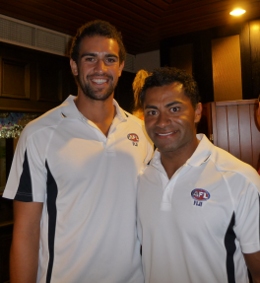 Wednesday 16th February was a big night for friends of AFL Fiji, with the still relatively young organisation taking a large step forward in raising significant funds at their Island Night Cocktail Party. We've been sitting on the story awaiting the final total and yesterday Carla Rodan was able to confirm that just over AUD$20,000 was raised.
Organised by AFL Fiji Australia Directors David and Carla Rodan and Alipate Carlisle, the event was staged at the Strathmore Hotel in Adelaide, South Australia. Port Adelaide AFL players David Rodan and Alipate Carlisle (pictured left), both of Fijian heritage, were gratefully able to access some of Port's generous sponsors, allowing for a big turnout and some good bids on auction items.
The night was attended by numerous Port Power players such as Kane Cornes, Danyle Pearce, Daniel Motlop and former Port Adelaide Magpies legend Russell Ebert. Some of the Adelaide Thunderbirds (netball) girls were there to lend support, as were members of the Fijian community and AFL International Development manager Tony Woods.
Hosted by Daniel Norton, entertainment was provided by former Australian Idol star Paulini and comedian George Kapiniaris. Auction items included a trip to Fiji, a signed Collingwood guernsey and a Gary Ablett Jr signed Gold Coast jumper. The contributions were flowing well, although this author politely released his wallet back into his pocket when he discovered the raffle tickets were $100 each. All for a good cause though, with the limited tickets for an impressive Ultimate Grand Final Package, and unfortunately I missed the $10 tickets.
Proceeds raised will enable AFL Fiji Australia to roll out AFL development initiatives in Fiji including an AFL scholarship fund
Note that two items from the night were at last check still available on ebay:
2011 Adelaide Crows Signed Guernsey Framed
Geelong Football Club 150 years Commemorative Guernsey
Fiji coach David Rodan Senior with AFL International Development Manager Tony Woods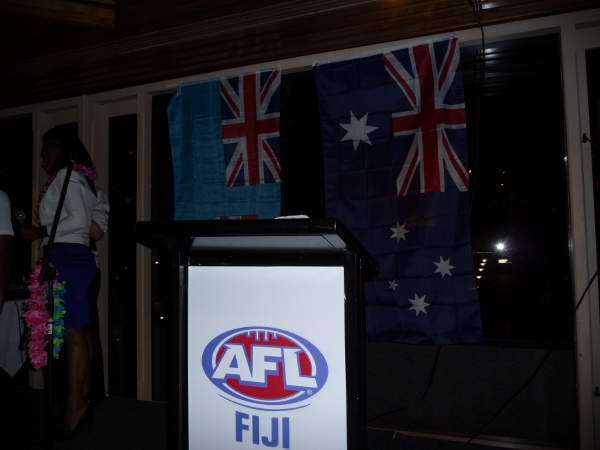 Stage area and national flags (and performer Paulini far left)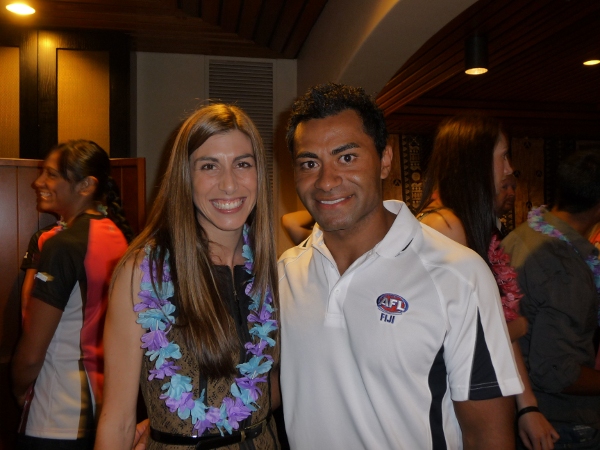 David and Carla Rodan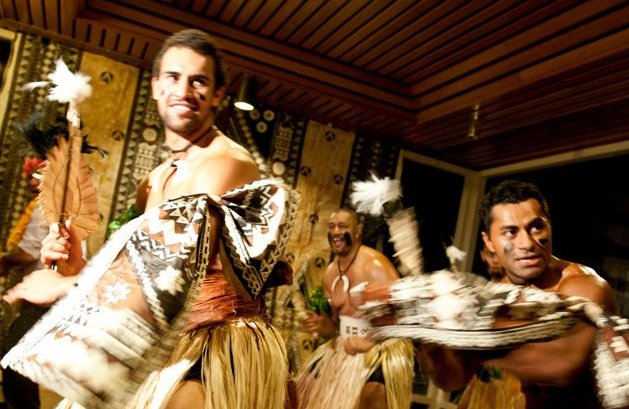 David and Alipate perform traditional Fijian meke (photo toniprimedesign.com)