German Black Eagles squad named for test vs France
Monday, April 18 2011 @ 12:02 pm ACST
Contributed by: Aaron Richard
Views: 5,123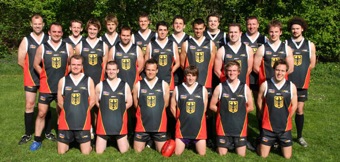 The Australian Football League Germany have announced their 22-man German Black Eagles squad for the upcoming test against France in Paris on June 11th.
The match will be the first full-field hit out for the Germans since last year's European Championships in Denmark and Sweden. For the French, it will be just the second full-field match for their National Team, their first coming up this weekend in the now-traditional ANZAC match against the expat-Australian "Aussie Spirit" in Villers-Bretonneux. The match against the Black Eagles will be a key early test for the French, who are on track to make their International Cup debut in August 2011.
Players from all six AFLG clubs are represented, with the Munich Roos leading the way with 7 members selected, followed by the Berlin Crocodiles with 6. The Rheinland Lions have 3 members in the squad, Stuttgart and Frankfurt 2 apiece, and the final member from the Hamburg Dockers.
Coaching the side is Australian Troy Pedder from the Berlin Crocs. Full squad listed below.
In terms of worldfootynews.com's evolving World Rankings, Germany are currently ranked 13th in the world, and the current difference up and down means neither a win or a loss will be enough to put them into 12th ahead of Canada, or see them drop to 14th below Japan. France are currently unranked, not having played any 16/18-a-side tests, and this match will see them enter the provisional rankings.
| Name | Club |
| --- | --- |
| Malte Schudlich | Frankfurt Redbacks |
| Jakob Jung | Stuttgart Emus |
| Just Bayer | Munich Kangaroos |
| Florian Walz | Stuttgart Emus |
| Marvin Bense | Berlin Crocodiles |
| Phillip Duncan | Stuttgart Emus |
| Martin Höft | Berlin Crocodiles |
| Constantin Höher | Berlin Crocodiles |
| Steffen Risse | Berlin Crocodiles |
| Fabian Lindner | Berlin Crocodiles |
| Peter Neumann | Berlin Crocodiles |
| Sebastian Esche | Munich Kangaroos |
| Robert Macher | Munich Kangaroos |
| Martin Schmoll | Munich Kangaroos |
| Uli Schmoll | Munich Kangaroos |
| Tim Horenburg | Munich Kangaroos |
| Max Kolleck | Rheinland Lions |
| Chris Odenthal | Rheinland Lions |
| Tom Odenthal | Rheinland Lions |
| Momme Volquardsen | Hamburg Dockers |
| Martin Lahr | Munich Kangaroos |
| Matthias Klusemann | Frankfurt Redbacks |
Coach: Troy Pedder