Around the Grounds in China - Part 2: Shanghai AFL
Wednesday, April 20 2011 @ 09:54 pm ACST
Contributed by: Aaron Richard
Views: 2,844

The Shanghai AFL has returned for 2011, with two rounds being played in April so far. A number of new faces have been signed up to all three teams, including a number of young Chinese students, as well as recently retired North Melbourne player, Shannon Watt.
So far the Dockers, who have still yet to win a title in their two seasons, have looked the goods and are favourites to claim the Spring Season cup.
Read on for full scores and photos of the action from the Shanghai AFL's first two rounds for 2011.
Shanghai AFL: Round 1 – 9th April 2011
| | | |
| --- | --- | --- |
| DOCKERS: | 1.3.9 | 6.4.40 |
| EAGLES: | 2.2.14 | 3.3.21 |
GOALS: Dockers - A Smith 3, S Watt 2, Kel 1
Eagles - J Grant 3

BEST: Dockers - A Unsworth, S Watt, P James, A Esakoff
Eagles - J Grant, P Lineham, W Abbott
| | | |
| --- | --- | --- |
| EAGLES: | 0.1.1 | 2.3.15 |
| CROWS: | 2.6.18 | 5.8.38 |
GOALS: Eagles - J Grant, S Scott
Crows - D Young, Kennen, Rock, LL Xing, Lucas

BEST: Eagles - W Abbott, S O'K, J Grant
Crows - D Young, Kennen, A Leochel
| | | |
| --- | --- | --- |
| CROWS: | 3.1.19 | 4.3.27 |
| DOCKERS: | 4.1.25 | 9.3.57 |
GOALS: Crows - D Young 3, D Lucas
Dockers - A Unsworth, S Watt, A Esakoff, A Smith 2, T Muse

BEST: Crows - D Young, D Prunty, Kennen
Dockers - A Esakoff, S Watt, B Mitchell, A Unsworth
Round 2 – 16th April
| | | |
| --- | --- | --- |
| DOCKERS: | 4.5.29 | 5.7.37 |
| CROWS: | 0.2.2 | 2.5.17 |
GOALS: Dockers - A Unsworth, O Ward, M Parasol, T Muse
Crows – P King, Kennen

BEST: Dockers - S Watt, O Ward, B Mitchell
Crows - A Loechel, M Taylor, Kennen, Liang
| | | |
| --- | --- | --- |
| EAGLES: | 1.0.6 | 3.0.18 |
| DOCKERS: | 4.3.27 | 6.6.42 |
GOALS: Eagles - J Grant, S Scott, P Hunter
Dockers – B Mitchell 2, S Watt, O Ward, A Unsworth, A Esakoff

BEST: Eagles - J Grant, Song, P Lineham
Dockers – S Watt, B Mitchell, A Unsworth, O Ward
| | | |
| --- | --- | --- |
| CROWS: | 3.6.24 | 5.7.37 |
| EAGLES: | 2.2.14 | 2.4.18 |
GOALS: Crows – Gideum, A Leochel 2, T Eggleston
Eagles - J Grant, P Hunter

BEST: Crows - A Loechel, T Eggleston, Gideum, M Taylor, Kennen
Eagles - J Grant, P Hunter, S Scott
SHAFL Ladder after Round 2
| | P | W | D | L | Points | For | Against | Perc |
| --- | --- | --- | --- | --- | --- | --- | --- | --- |
| Dockers | 4 | 4 | 0 | 0 | 16 | 176 | 83 | 212% |
| Crows | 4 | 2 | 0 | 2 | 8 | 119 | 125 | 95% |
| Eagles | 4 | 0 | 0 | 4 | 0 | 70 | 157 | 45% |
Some of the locally-grown players show their colours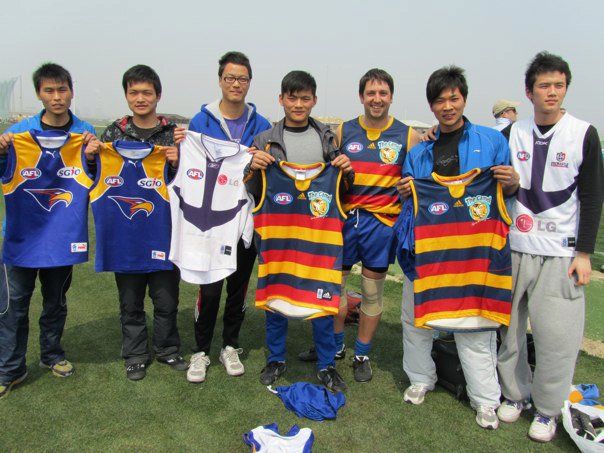 Actions from the Eagles vs Dockers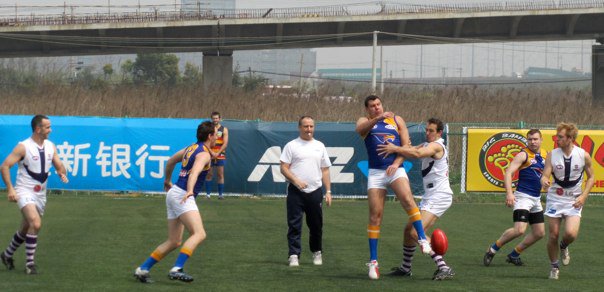 Andrew Loechel being chaired off after playing his last game before a knee reconstruction and return to Australia