Kirk visits India: no shortage of footballs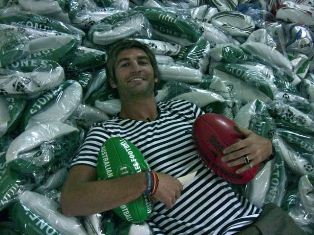 Brett Kirk, retired former Sydney Swans captain, and now International Ambassador of the AFL, stopped in India as part of his World Tour.
Kirk's base in India was Mumbai, and this is where he kicked off his tour with a clinic in the city at the Oval Maidan, Churchgate. It was followed by a meeting with Austrade officials in Mumbai to join hands and help develop the game in India.
Next stop was Kolkata, where most of the country's existing footy players are located, many of whom were part of India's last International Cup campaign. The session was fruitful, but due to the very short notice not all players could attend. But the sports-crazy city, which has played host to the likes of Maradona, Ziko, Oliver Kahn, Forlan, can now add another feather in its crown; 'Captain Kirk'.
The next day was probably most fruitful. Brett hunted down the football-manufacturing companies in Jalandhar and Punjab. As quoted by Michael McIntyre (Australian film maker; accompanying Brett on his tour), "We eagled and we landed." Brett was in his element, swimming in a mound of footies. Following Kirk's visit, AFL India are in the process of establishing relations with the manufacturing companies.
It was a small step for Brett Kirk, but a giant leap for AFL India.

Editor: worldfootynews.com welcomes Sudip Chakraborty on board, covering footy in India.