AFL India spreads its wings from Bengal to Kerala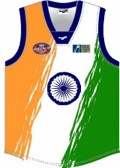 It took nearly 40 years to develop the first competitive team of Australian Football in India, after the very 1st exposure of the game in India in 1969, when Western Australia Football League toured India, to when the Indian Tigers participated (jumper pictured left) in the International Cup 2008 in Melbourne. The team then comprised of players mostly drawn from West Bengal and Indian residents in Melbourne.
Thereafter it has taken three more years to spread the joy outside the state of West Bengal in eastern India to the state of Kerala in southern India.
Rajeev Raj, a member of the Kerala Olympic Association and a big sports enthusiast, has taken up the responsibility to promote the game in his state. Hence 40 odd players from different sporting backgrounds are practicing the game in the city of Kozhikode, where a week long footy clinic was organised in April and it led on to the first ever Aussie Rules match played on 22nd April 2011.
The good work has been carried forward by Rajeev, who has started organising footy clinics in a few schools of the city and is looking forward to spread the game to all the districts of Kerala and have a state championship very soon.
See also our story about AFL India now recruiting players within Australia for the fourth International Cup.