France makes 18-a-side debut, but Germans too strong
Wednesday, June 15 2011 @ 07:00 am ACST
Contributed by: Aaron Richard
Views: 3,813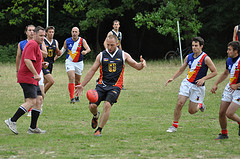 The German Black Eagles travelled to Paris last weekend to take on the French Coqs, in the first-ever 18-a-side international for the French national team. The home side battled hard, but struggled against their more experienced opponents, with the Eagles holding the French scoreless in the first quarter.
The second quarter saw the French rally and get their first goal on the board, but by half time the Germans were ahead by 35 points.
From the 3 minute mark of the third term the Eagles were reduced to 17 men on the field, after Daniel Karsch went to hospital with a dislocated shoulder, but in spite of this the Germans again held the French scoreless for the quarter, while they added 6 goals themselves, pulling away to a 74-point lead at the final break.
The last quarter effort from the French allowed them to regain some pride, dominating play and denying the Germans any further score, but inaccuracy in front of goal stopped them from making a bigger impression on the final result, Germany finishing 64-point winners, 13.5 (83) to France's 2.7 (19), in a performance described by Germany's coach Troy Pedder as "a solid effort from the whole squad, with no passengers."
For Team France, the match represented a warm-up to their International Cup campaign, which will be bolstered by the inclusion of six further players currently playing in Australia, and two more who are currently in Canada.
The Eagles' next hitout will be their annual 9-a-side against the Czech Republic, to be held in Mitteleschenbach on July 30th. On the domestic front, this weekend sees a top-of-the-table clash between the Berlin Crocs and Rheinland Lions in Berlin - the first time in the Crocs' history that they've led the AFLG ladder.
| | 1/4&nbsp&nbsp&nbsp | 1/2&nbsp&nbsp&nbsp | 3/4&nbsp&nbsp&nbsp | Full Time |
| --- | --- | --- | --- | --- |
| Germany&nbsp&nbsp&nbsp | 3.1 | 7.2 | 13.5 | 13.5 (83) |
| France | 0.0 | 1.3 | 1.3 | 2.7 (19) |
Goals: Germany - Matthias Klusemann 4, Peter Neumann 3, Martin Lahr 2, Sebastian Bruns, Daniel Karsch, Uli Schmoll, Tim Horenburg
France - Albin Chavy
Best: Germany - Max Kolleck, Moritz Hartmann, Phil Dunkin, Daniel Karsch, Matthias Klusemann
France - TBC
Umpires: Field - David O'Hanlan and Andrew Senkans, Goal - Subajan Sivandran and Tom Farrant
Team France (Photo courtesy of the CNFA)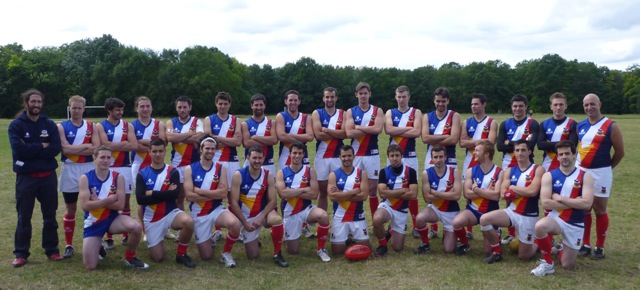 Team Germany (Photo courtesy of Fabian Lindner)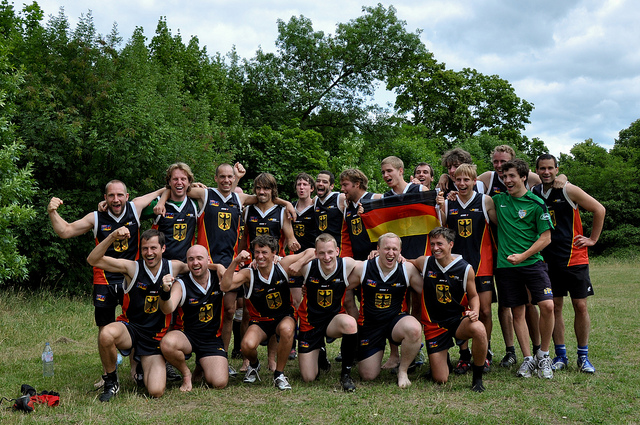 Both sides after the match (Photo courtesy of Fabian Lindner)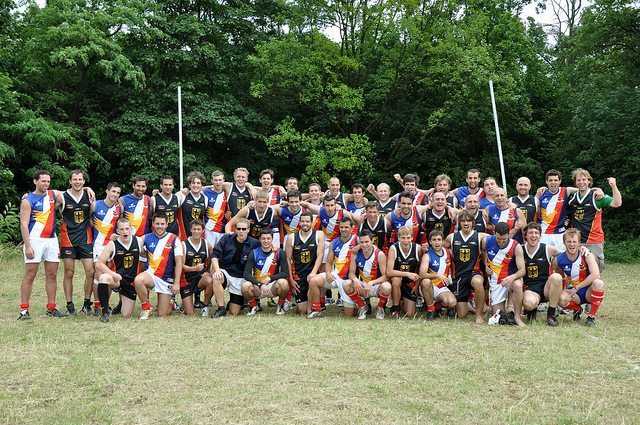 The new French national team jumpers for the IC11